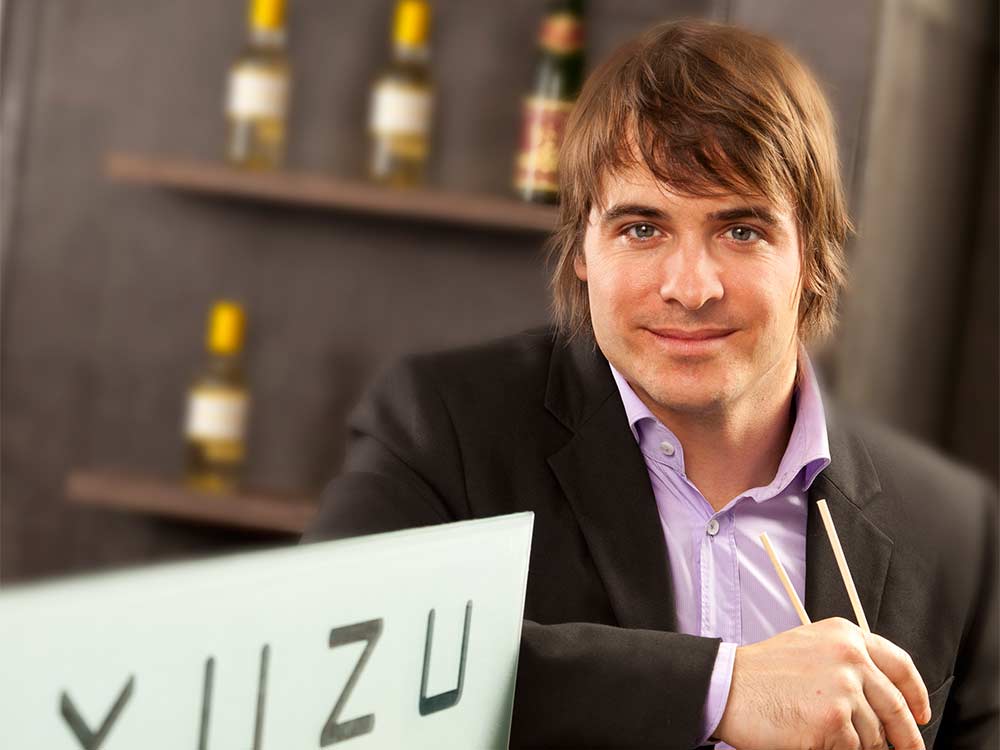 Yuzu Sushi: A student project comes into its own
Steve Morency's Story
Friday, February 23, 2018
It took Steve Morency only six months after finishing his degree in administration to open his first restaurant, Yuzu Sushi. At that time, the entrepreneur and his associate were only 24, but their youth didn't stop them from discovering the true recipe for success. 
Steve Morency put together his first business plan in 1999 as part of one of his courses at the Université de Laval. Working as a waiter at the time while pursuing his studies, Morency had a plan to open a student pub. One year later, he discovered the joys of entrepreneurship by becoming a franchisee of a painting service. "Learning how to manage a team and make a profit inspired me to become an entrepreneur," he states.
Morency was also a sushi lover, and in 2002 he turned his previous concept for a student pub into an idea for a restaurant specializing in fresh fish. "There were already over a hundred sushi restaurants in Montreal, but only about a dozen in Quebec City," Morency explains. He asked Frédéric Matte, a friend from secondary school and the manager of a sushi restaurant, to become his partner.
Standing out from the crowd
Instead of going with standard classic Japanese decor, adopted by most of their competitors, the pair chose a more urban, trendy interior design that had a New York influence. They approached chef David Biron and gave him carte blanche to define Yuzu Sushi's culinary identity. To cater to the tastes of Quebecers, the restaurant veered away from Japanese purism and developed its own soy sauce and rice recipes.
See also: Juliette & Chocolat's secret ingredient? Strongly held values
In 2005, Morency and his partner jumped on the opportunity to open a sushi counter inside Holt Renfrew in Quebec City. The experience allowed them to discover the commercial potential of small sushi counters that operated with few employees.
Franchising for strong, fast growth
But the company's drive to expand ran up against its limited ability to invest in more restaurants at a time when moving fast was crucial to riding sushi's wave of popularity. So Morency and Matte decided to grow their business through the franchise model.
Sushi recipes, daily operations, contracts... Yuzu Sushi developed a range of requirements which it published in manual form to standardize its offering. In 2007, the first restaurant franchise opened, followed by two other locations, plus another three the year after. "We focused on supporting controlled growth for long-term success. That meant solidifying our foundations to prove our business model was an effective one before going into expansion," Morency emphasizes. 
Since 2008, franchises have been opening at a rate of between seven and 10 per year, for a current total of 62 restaurants spread throughout Quebec and New Brunswick. Around 25 Yuzu Sushi counters have also opened in IGA-branded supermarkets. "We refused to have a presence in supermarkets for a long time because we were afraid of hurting our reputation," he says. "In 2015 we ended up changing our minds since we felt that Yuzu Sushi's reputation was strong enough that our products wouldn't be seen as merely grocery store sushi."
Yuzu Sushi aims to double in size over the next five years and dominate the Quebec sushi market. To achieve this goal, Morency is counting on the complementary relationship he has with his business partner. "I handle business development and he takes care of the operational end," he explains. "You need to be amazingly efficient and have a particular ability to infuse your team with the same energy." From the beginning, the entrepreneur has been able to draw on the finest talent.
"I'm good at everything, but I excel in nothing," Morency admits. "Knowing how to build a great team is crucial!"
– Steve Morency
Today, Morency still enjoys serving his sushi to appreciative Quebecers, but he also loves offering others a path to entrepreneurship through his franchise opportunities. "For young people who want to start a business without having to invest huge amounts of money or take big risks, Yuzu Sushi has been like going to a kind of school created by my student franchise experience."
Yuzu Sushi in Numbers
62: Number of Yuzu Sushi franchise locations   
4,000: Number of customers who consume Yuzu sushi every day
 600: Number of employees of Yuzu Sushi 
Want to learn more?
Visit Yuzu Sushi's website