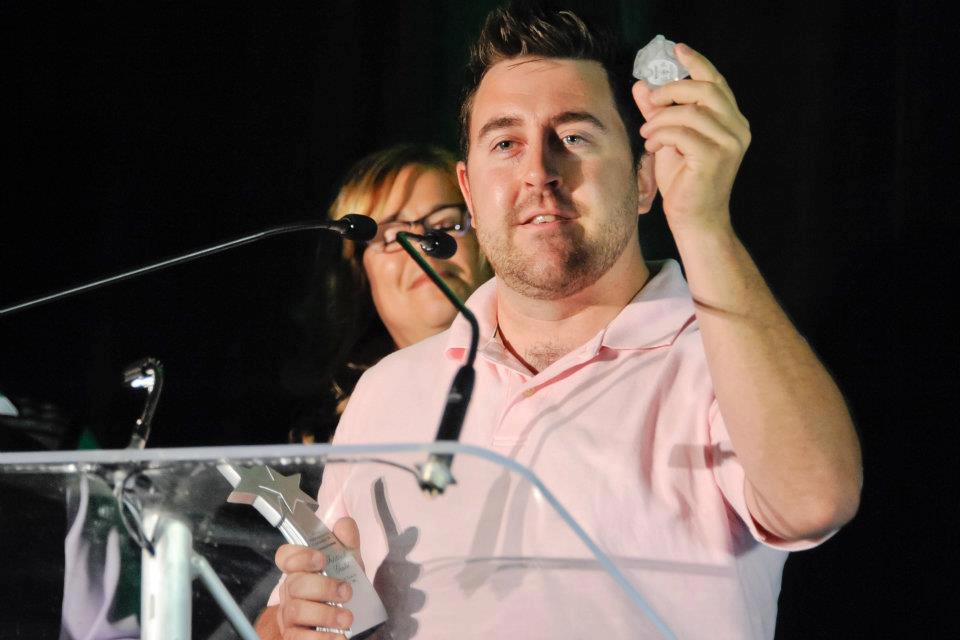 Monsieur Glace: When success is in the bag
Frédérick Goulet's Story
Frédérick Goulet first sold bags of ice to help out a few retailers. Today, his company, Monsieur Glace is one of the industry's big players in the Montreal region and has its eye on the rest of Quebec.
Monsieur Glace doesn't just make and distribute any old ice—its focus is on food-grade ice. As opposed to ice used in the concrete industry, for example, this ice can come in contact with foods and is fit for human consumption. Depanneurs, campgrounds, marinas, caterers and festivals couldn't survive without it! It's even a must for construction workers. "At work sites, it's now a requirement that workers have ice in their water jugs. Quebec's occupational health and safety commission requires it," explains Goulet, founder and owner of Monsieur Glace.
While managing a Mikes restaurant owned by his parents in Saint-Jean-sur-Richelieu, the 34-year-old entrepreneur developed a taste for business. Then one day in 2006, two business owners came in for a bite to eat. After a bit of conversation, they admitted they were short of ice because the machine they used to make it was in need of repair. Luckily, the family business had just recently invested in a new ice machine. "I offered to help them out. A short while later, they came back again, and then they started sending other customers who also needed ice," relates Goulet.
Thus the company that later became Monsieur Glace started off slowly, until one day word of mouth led Saint-Jean-sur-Richelieu's International Balloon Festival to knock on its door. "They gave us a big push in terms of visibility and credibility. It was enough to push us further afield in the Montérégie region and onto the Island of Montreal in 2009," explains the businessman. Since then the company hasn't stopped adding big names to its list of customers, including Evenko and the Just For Laughs Festival.
Making tough decisions
Today, Monsieur Glace is one of the big players in the metropolitan region, including the South and North Shores. But Goulet has had to make a few difficult decisions along the way, such as in 2011 when he decided not to take over the family business.
"I had come to a crossroads and was too busy to be able to take on both realities. In the end I decided to dedicate myself to the ice business full-time."
Frédérick Goulet
 It was a decision his parents accepted gracefully, however. "Since they themselves are entrepreneurs, they took the news well and understood why I was making that decision. Their initial fear that I would fail has been replaced by a lot of pride in my success," emphasizes Goulet, who credits them with encouraging his interest in entrepreneurship. In 2012, his triumph was solidified when he was awarded the Jeune personnalité d'affaires prize by Génération XYZ.
The purchase of a number of freezers, like those found in front of depanneurs, was another important turning point in the growth of Monsieur Glace. Since the freezers were only available from the U.S., Goulet had to import them, and they were very, very expensive. "The financial situation at that time set us back a bit, but we got over it," he admits.
Fortunately, the investment paid off. In 2014, depanneurs outfitted by Monsieur Glace experienced an upturn in sales resulting from the Ice Bucket Challenge. "We had to send more staff to restock the freezers at the depanneurs, which were literally being emptied out completely. I had never seen that kind of demand for ice, it was huge," recalls Goulet. That fall, Monsieur Glace's sales quadrupled.
Impeccable service
Quick, easy and efficient service is what allows Monsieur Glace to distinguish itself from its rivals. In addition to making ice deliveries to customers, the company makes it a point of pride to keep its freezers restocked and to even move freezers to more strategic locations during big events.
Furthermore, there is always someone available in client services, ready to answer the phone the moment it rings. "Our customers never run out of ice. Providing that kind of turn-key service is our signature," says Goulet, whose company has occupied a factory in Chambly since 2016.
In coming years, Monsieur Glace will answer the call to expand elsewhere in Quebec—discussions are already underway with Quebec City distributors in particular. "Those plans should come about in two to three years' time. In the short term, we intend to become the official ice provider for new events in Montreal."
Monsieur Glace in Numbers
25: Number of employees during the summer season
30 to 50%: Monsieur Glace's annual sales growth rate
12,000: Number of 3 kg bags of ice that can be produced daily
Want to learn more?
Visit the Monsieur Glace website