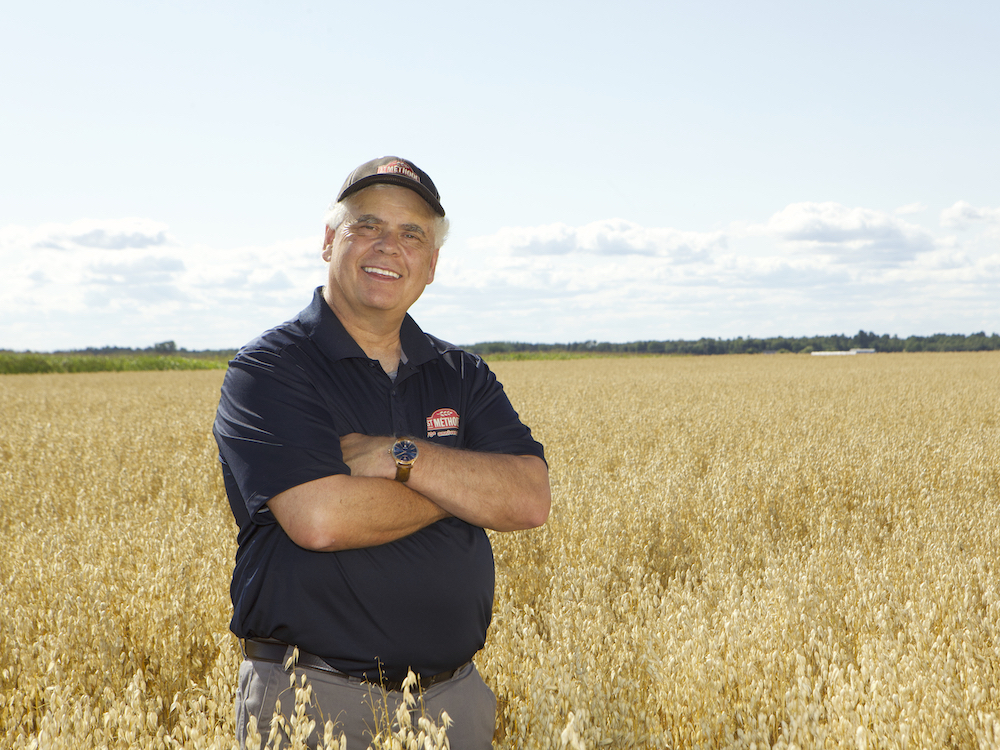 St-Méthode Bakery: Nutritious Breads Made with Quebec Ingredients
Benoît Faucher's Story
St-Méthode Bakery has been a Quebec tradition since 1947, when it was founded by Mariette Robert and Joseph Faucher. Their son Benoît, now president of the company, has updated their recipe for success by focusing on nutritious, non-GMO breads made with local ingredients.
THE ONLY 100% QUEBEC-OWNED BAKERY
Benoît beams with pride when he talks about the major players in the bread industry in Canada. "We're the second largest baker of fresh sliced bread in Quebec and the third largest in Canada."
Business is booming at St-Méthode Bakery and it's no small feat that this Quebec-based family business is holding its own against two industry Goliaths: a Mexican multinational and a large Ontario company.
The Mexican giant Bimbo, which owns the POM, Bon Matin and Villagio brands, is the biggest bakery in Quebec and Canada. FGF Brands, which produces the Gadoua, Wonder and D'Italiano brands, is the second largest in Canada and third largest in Quebec.
A HEALTHY SHIFT THAT PAID OFF
While St-Méthode Bakery has a long tradition of baking nutritious breads, its health and nutrition positioning is quite recent. Before this shift, the family business made bread, as well as pastries.
In 1992, the bakery broke new ground and introduced innovative products, such as fat-free and sugar-free whole wheat bread. In the following years, the demand for baked goods dropped off while the popularity of nutritious breads continued to rise.
"We were trailblazers. Bringing healthier breads to the market was rewarding for the company."
Spotting this healthy potential, Benoît stopped producing baked goods to devote himself to nutritional breads. Since then, the company has streamlined its product offering from 100 to 30 across three lines, improving both efficiency and profitability.
"Campagnolo is our line with olive oil. Les Grains St-Méthode is our health line par excellence and accounts for 50% of our sales. La Récolte de St-Méthode is our artisanal line."
A COMFORTING, ARTISANAL APPROACH
In the Récolte de St-Méthode line, the new Homestyle oat bread and Homestyle bread with stone ground old-fashioned grains are the company's best sellers.
Despite decades of experience, St-Méthode Bakery gave themselves quite a challenge when they started developing the two new artisanal breads in their 60,000- and 12,000-square-foot facilities. "The initial test run didn't go so smoothly," Benoît said.
Their homestyle bread with stone ground old-fashioned grains also gave them the opportunity to experiment with a new ingredient: malted barley. "We worked with a malt house that usually works with breweries. When grain is malted it gives the bread a distinctive caramelized taste," Benoît added.
LOCAL AND GMO-FREE INGREDIENTS
"We listen to our customers and their suggestions," Benoît added, noting that more and more people are concerned about GMOs in their food.
In 2017, when St-Méthode Bakery celebrated its 70th anniversary, the company made a promise to offer 100% GMO-free products. To keep their promise, the bakery had to make some changes to its sourcing.
"It was a big challenge. We had to accept price increases for our ingredients. Even today, there are few industrial bakeries that are 100% GMO-free."
Despite changing with the times, there are always new challenges on the horizon for this family business. Year after year, Quebec's supply of wheat has been a big challenge. "I've pleaded with the farmers and the Quebec Ministry of Agriculture, Fisheries and Food", Benoît said.
Still, the future looks bright for St-Méthode Bakery and business continues to rise despite a slight downturn in the sliced bread market. "There's still room for growth in several regions of Quebec," Benoît added.
A FEW FIGURES
350 employees
800 points of sale
52% of all grain breads sold in Quebec
LEARN MORE
Browse St-Méthode Bakery's website to learn more about their nutritious breads.