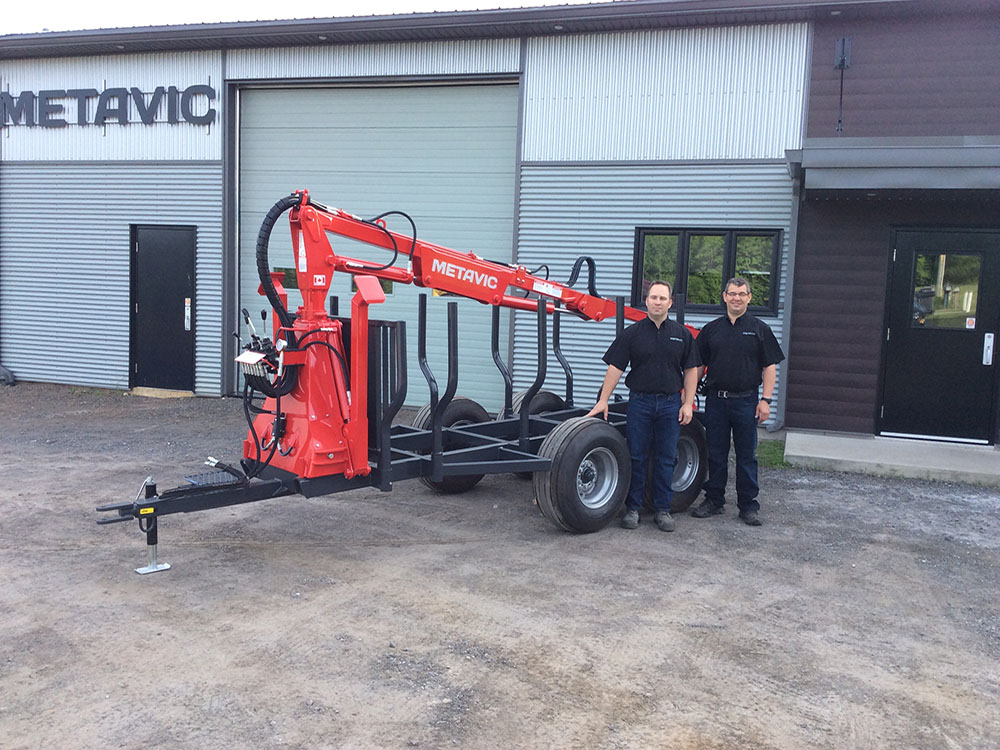 Metavic: Seeing the forest and the trees
Martin Guillemette's Story
Émile Guillemette founded Metavic in 1971 in Saint-Pierre-Baptiste; in 2001, his sons Steeve and Martin took over the business. Although the company initially specialized in mechanical repair work, today it designs and produces forestry equipment.
Log loaders, trailers, harvester heads, log splitters, hydraulic winches... Metavic is Quebec's specialist in forestry equipment. The company is also a great example of an intra-family business transfer planned and minutely prepared well in advance.
Planning the takeover
After his education in mechanical engineering, Martin Guillemette immediately joined the family business as a welder-fitter. He polished his skills and knowledge by working in a range of services, such as painting and machining, while maintaining an interest in tool design and creation.
In 1999, he worked days for the family business while dedicating his evenings and weekends to outside machining contracts. At a certain point Martin realized he had so many contracts, he could start working for himself at his own company. He then asked his father whether he felt he was ready to sell the family business to his sons. "We quickly established a deadline, then started making the necessary preparations," he says.
One takeover, many challenges
Émile Guillemette lived less than 500 feet from the company he founded—a closeness he valued highly. His sons Martin and Steeve considered him a role model and sought his opinions throughout the business transfer process.
"Our father is still very attached to the business. He's a role model for my brother and me—he's a mentor we get a lot of inspiration from in order to keep Metavic growing."
Martin Guillemette
The two brothers began the buyout process by first acquiring 50 percent of the shares in the business, then finally buying equal parts of all of the shares. To protect themselves, they created a shareholder agreement in which everything was laid out in detail, particularly the number of hours of work, how to manage supplementary hours and how to involve their children in the business. Nothing was left to chance and both brothers share in the decision-making process.
 "If I want to sell my shares, by brother has priority as a buyer over my children," stresses Martin. "We created clearly defined rules to avoid any frustrations later."
To successfully transfer a business within a family, all misgivings need to be dispelled, both on the part of customers as well as amongst employees. When the buyout happened in 2001, Martin was 26. "I had proven myself as an employee at the company, but that's not really the same thing as taking control of the business," he recalls. "Often customers or employees would insist on seeing my dad, even though he'd sold all his shares. We had to really impose ourselves in order to legitimize our authority. That's not always easy."
Takeover benefits
The Guillemette brothers introduced many new aspects to the business, particularly in terms of marketing, management and internal processes. They streamlined data processing, computerized client follow-up and created an online shop front.

Martin and his brother have different personalities and complement one another perfectly. According to Martin, the family's successful business transfer can be explained quite simply. "Steeve is my older brother. We're very compatible. I love design and machinery. Steeve prefers marketing and human resources. We both have the same goals and we're both heading in the same direction."

Before the takeover, Metavic only did business with one retailer. Now the company has 23 distributors in places like Nova Scotia, New Brunswick and Vermont.

After five years of hard work and dedication to research and development, Metavic has become the first company in Quebec to develop a 100 percent Quebec-made harvester head, which allows wood logs to be cut, measured, pruned and prepared for loading, all in record time.

In terms of human resources, the Guillemette brothers are looking to simplify their internal procedures. Their objective is to ease the integration of new employees in order to create independent workers as quickly as possible.

While some things at Metavic have evolved since the succession, others have stayed the same, such as the company's durable machinery, excellent service and high-quality products. Metavic hopes to equip its facilities to better sustain the strong growth it has experienced in the last few years. This is one entrepreneurial story that is far from over.
Metavic in Numbers
25%: Company's rate of growth in 2017

21: Number of employees

250: Number of countries in which Metavic has a presence

 
Want to know more?
Visit the METAVIC website