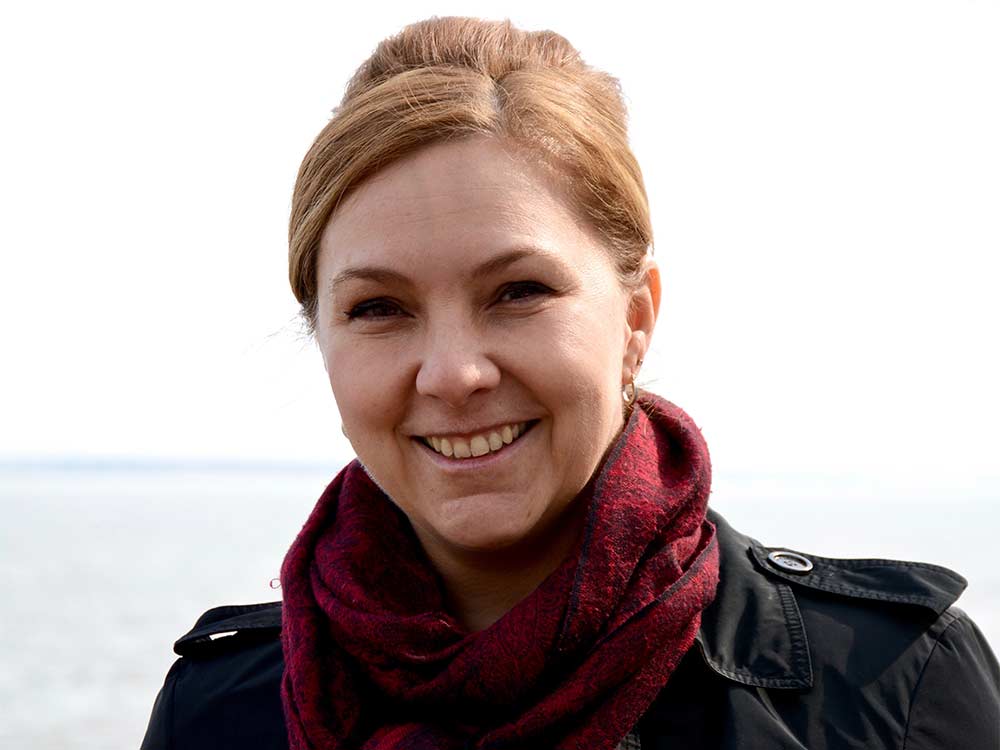 Camping Orléans: Learning in the field
Natasha Bouchard's Story
In the camping sector, it's important to not be afraid of taking risks and betting on growth that goes beyond the physical limits of the campground. Never one to avoid getting her hands dirty, Natasha Bouchard has been able to position Camping Orléans as a model for both the industry and the region in general.
Camping Orléans is a family affair. It all started back in 1984, when Jean-Claude Saint-Amant and Pierrette Bouchard, two university professors, decided to purchase a campground on Île d'Orléans. Within a few years, thanks to their continual efforts, they were able to achieve five-star certification as a campgroud from the province's tourism ministry, a rating it has maintained ever since. According to the ministry, there are only around 20 similarly rated sites within Quebec out of some 822 campgrounds. 
In 2008, Bouchard's parents were looking to sell Camping Orléans, so she decided to take it over. "I grew up in the business and saw all the work my parents invested in it, as well as the changes it went through over 35 years," recalls Bouchard. Since her takeover, Camping Orléans has received many awards, notably being named SME of the Year in 2015 by the Canadian Tourism Awards held by the Tourism Industry Association of Canada. It was the first campground to receive such an honour.
Despite having grown up in the camping business, Bouchard found it necessary to build a team of specialists in areas such as accounting, management and human resources in order to meet the challenges of being sole owner of the business. She also didn't flinch at the idea of going back to school to study administration and tourism in order to increase her knowledge. Her prior university education in writing was put to good use when drafting strategic business and marketing plans. But the most important thing she learned was the importance of maintaining a sense of humility in the business.
"You shouldn't be afraid to admit when there are things you don't know. You can't do everything yourself, and being a good manager means, above all, recognizing your limits and knowing how to surround yourself with competent people that can help you achieve your objectives. You'll always achieve the best results when you have a solid team you can count on."
Natasha Bouchard
The entrepreneur is also involved in her community: She is the president of Camping Quebec, a municipal councillor and a member of a number of regional committees of experts in economic development. These activities allow her to better understand the stakes related to her industry. "When you have access to the numbers and to detailed information on your local socio-economic reality, you develop a wider viewpoint and can work towards achieving successful outcomes for the whole region," she explains.
Growth and its limits
In the camping sector, growth needs to be measured differently, especially when your campground is located on an island, where it's hard to extend the existing physical limits of the terrain. "You need to find other ways to stand out and grow," explains Bouchard. Whether this is achieved through online ad campaigns to attract a younger demographic, putting in place higher quality infrastructure or diversifying your offer throughout the year, depending on the season, Camping Orléans has found clever ways of staying ahead of the competition. "Over the last few years, the camping industry has really held its own and growth has been steady. But that doesn't mean you can rest on your laurels," she explains.
Attracting over 60,000 visitors a year, Camping Orléans's key to success has been its creativity and ability to constantly adapt to any situation. It's something Bouchard has always been good at, having never been afraid to get her hands dirty and find practical solutions to problems—a trait she learned following her father's example. Her parents entrusted her with looking after the campgrounds from the age of 16, when she learned how to manage the campers' needs on her own and handle any unexpected situations as they arose.
Today she has plans to consolidate the company's efforts and the familial heritage on which Camping Orléans has built its reputation by taking on the new challenges awaiting the industry in the years to come. Climate change, for example, is a major influence on tourism and is already having an effect, with spring seeming to come later and later every year and summer lengthening well beyond back-to-school season in September. But whether as the owner of Camping Orléans or as an active participant in her community, Bouchard is always ready to roll up her sleeves to bring about new innovations and discoveries.
Camping Orléans in Numbers
5: Number of stars awarded to Camping Orléans, the only campground in Quebec to hold such a distinction
10: Number of years Natasha Bouchard has headed the company
152: Number of sites available on the campground
550: Camping Orléans's full capacity, which is larger than the population of neighbouring town Saint-François-de-l'Île-d'Orléans
 
Want to learn more?
Visit the Camping Orléans website