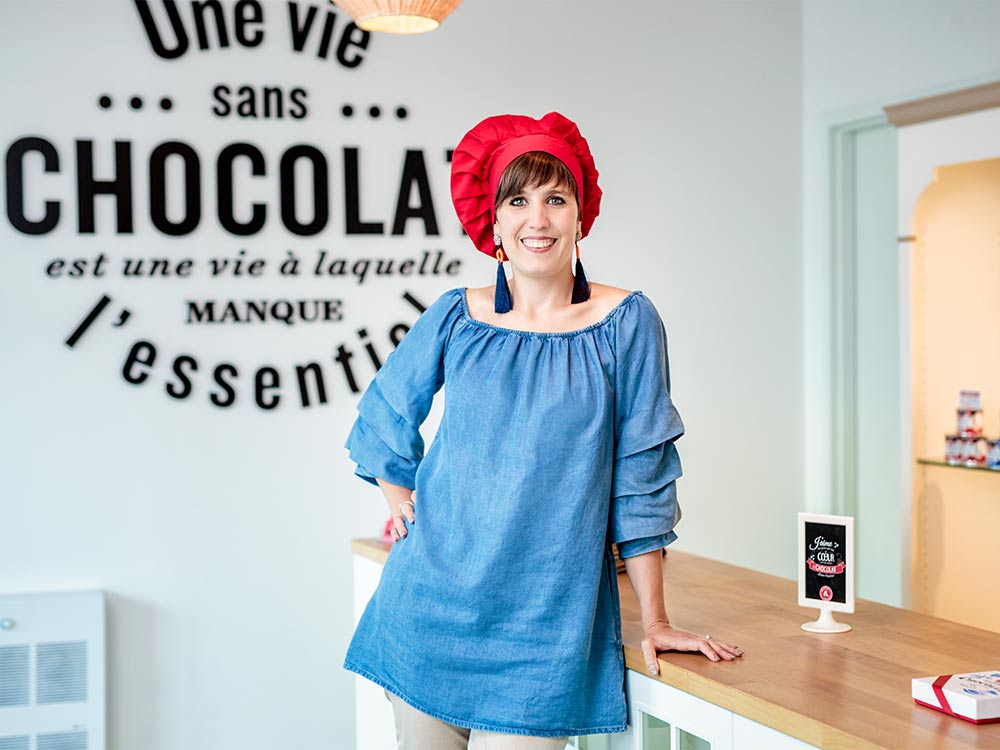 Juliet et Chocolat's secret ingredient? Strongly held values
Juliette Brun's Story
Thursday, September 7, 2017
Given her last name and her sweet tooth, it seems Juliette Brun was fated to build an empire based on chocolate. But the businesswoman behind Juliette et Chocolat is not just a foodie—the entrepreneur also has an insatiable appetite for growth.
Even when she was a student at McGill, Juliette Brun thought about working for herself. Like many young people her age, she finished her degree in finance without knowing what career path she wanted to follow. At the time, the experiences of her father, who had spent his career working in large corporations, came back to her: the never-ending projects, the oppressive hierarchy... So she decided to avoid going the salaried employee route and start her own business selling hot chocolate— a favourite treat from her childhood that would be sure to warm the hearts of Montrealers.

She opened her first store on St. Denis Street in 2003 after returning from a trip back to her native France to receive training in crêpe- and chocolate-making. "It was the ideal moment. I was young, and so if I failed I would be able to get back on my feet quickly," she recalls.

A few months after the launch of Juliette et Chocolat, Juliette's boyfriend, Lionel May, joined the business. Today, the couple run eight locations and a production workshop and manage a team of 300. "We complement each other really well, we never step on each other's toes. We're a bit like yin and yang," laughs Juliette.
See also: Dominique Brown's Defining Moment
She recognizes her young business was on the receiving end of a certain amount of luck, since at the time the café scene was hot in Montreal. Riding the wave seemed the obvious choice, while also adding a chocolatey theme that had been missing in her adopted city. "I did a market study and the enthusiasm for the idea was palpable," she explains. She quickly convinced investors to back her young business.

Fourteen years later, the Juliette et Chocolat formula has been copied by competitors, but that doesn't worry the entrepreneur. "It forces us to develop new ideas, to innovate and perfect our way of doing things. Being able to challenge yourself is a luxury, it allows us to develop to our full potential," she admits.

An appetite for growth
In addition to the restaurant-boutiques, Juliette et Chocolat now has an online store and sells its products at more than 70 points of sale. Juliette hopes her business will continue to expand throughout Quebec and North America. "We want to take it zone by zone and become really well established in a region before moving on to the next. This will enable us to better understand and serve the market. By grouping the boutiques, we also take advantage of economies of scale," she explains.

Although the growth of Juliette et Chocolat may be controlled, it also faces challenges. "Every new challenge is bigger than the last one," reveals the entrepreneur. At such a pivotal time in her company's growth, it's important that the company's values are maintained despite the fact that she cannot personally be at every location. "It's important to hire good people and make sure the values of Juliette et Chocolat don't fade over time."
That said, the 36-year-old admits she doesn't really notice time passing. "In my head, I'm still 22," says the mother of five. Has it been hard to achieve a work-life balance? "Starting a family really helped me find an equilibrium professionally," she states.

She also remains unequivocally committed to her chosen career. Like chocolate, entrepreneurship seems to run in her veins. Although her children are still young, the eldest is already thinking about taking over the family business. "No matter who continues the company after me, that person will need to have the same passion and values as I do," she concludes.
Juliette et Chocolat in Numbers:
300: Number of employees
50: In metric tons, the amount of chocolate purchased annually by the company
36: Juliette Brun's age