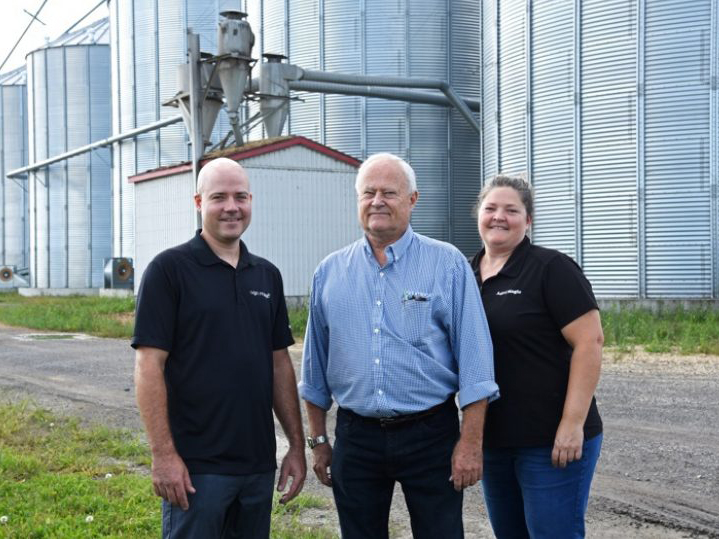 Agri Magic: Sowing the seeds of fast growth
Véronique and Guillaume Vinet's Story
Véronique and Guillaume Vinet took over the company founded by their father in 2001, except they decided to give it a new mission: producing non-GMO soybeans for the Asian market. Thirteeen thousand tonnes of soybeans later, the brother and sister team are starting to harvest the fruits of their labour. 
At the end of the year 2000, Jean-Pierre Vinet launched Agri Magic, which sold seeds, purchased harvests, and warehoused and bagged dry beans. But over the years, the company's development stagnated. "It wasn't successful at selling a lot of volume and had few employees," explains Véronique Vinet. "An Ontario company offered it some soy contracts, so it got started on that venture."  
Her brother, Guillaume, began working for the company in 2003, learning the fundamentals of the trade. "There was a lot of downtime at the company, so I also started working elsewhere to make up the time," he explains. "It became a full-time job in 2012."
Véronique, who had been managing a bar-restaurant since 2005, arrived to help out in 2015. Initially she lent administrative and logistical support to the company during her free afternoons, then later invested herself full-time while still keeping her restaurant business on the side.
Believing in change
The company's new mission in warehousing and bagging soybeans came with its share of adjustments, which happened progressively over the years.
In 2011, Agri Magic obtained contracts to process approximately 2,000 tonnes of soybeans. By the next year, this reached 4,000 tonnes. "We used the profits to invest in other silos for storage," explains Guillaume. "Then we tackled the automating of our processes."
A robot now handles the soybean bagging, a task that formerly required two employees. Other tasks have been automated, thereby reducing the workforce needed by the company.
"Before, we needed four employees on the production line, while today we only need one to verify that it's running smoothly," explains Véronique, who also mentions that she was inspired by the Lean management method, which involves optimizing processes in order to save time and money. "It enables full-time work and better salaries for the employees that are still here."

Furthermore, with the help of her father, an inventor who is always successful at improving production processes through his cutting-edge ideas, Guillaume has learned how to repair their machinery himself, which means they can avoid hiring a designated person for this role.
For her part, Véronique is taking refresher courses in order to achieve certain certifications, particularly with regard to grain testing and phytosanitary certificates. Over time, the volume of soybeans handled by the company reached 6,000, then 10,000, and finally 15,000 tonnes. From the four silos it initially built, the company has grown to include 17 silos, as well as a soybean dryer.
Nevertheless, business started dropping off in 2016, at which time Guillaume decided to explore the Asian market by taking advantage of the economic mission to China undertaken by the Liberals, who were in power in Quebec at the time. "We found that it was time to recommence exporting ourselves, like my dad did when he first started," explains Guillaume.
"We had acquired enough experience by that point to make it happen."
Guillaume Vinet
In that same year, their father decided to quietly hand over control of the business, allowing Véronique and Guillaume to determine the company's future direction while maintaining a presence to help out and give advice. The brother and sister team divided the management of Agri Magic between them, with Guillaume at the head of exporting and Véronique managing logistics, quality control and producer relationships in Quebec.
Uncovering new markets
Guillaume visited China, and later Japan, and quickly realized that soybeans were in demand in these countries. However, their company had no product to sell, since up until that point they had always bought soybeans from a variety of sources.
"By doing that, we never received the same variety, and that changes the amounts of protein and oil," he explains. "When you offer your own variety, you ensure their quality and it's easier to sell."
Agri Magic then began sowing three varieties that they could later harvest and sell themselves for these markets. "I had already met with several interested companies, all I had to do was go see them once I had a product ready," adds Guillaume, who began learning Japanese to prepare for the opportunity.
Since that time, Guillaume has landed a contract in Austria thanks to contacts he established here. While at the moment only 10 percent of Agri Magic's revenue comes from direct sales and the remainder from grain conditioning and subcontracting, the company's leaders plan to increasingly develop this export market over the next five years.
To prepare for this, Véronique has undertaken many improvements. "We've installed camera systems everywhere in order to surveil machinery no matter where you're located," explains the vice-president. "If a problem crops up once the product is in China or Japan, we can know whether it was because of our facilities."
Added to this is a system for handling and load cells in silos, which enables the precise measurement of quantities of clean soybeans and damaged soybeans.
Since developing business outside the country, things have quickly picked up. "We plan on building additional silos to respond to demand and possibly hiring more employees," Guillaume says.
Agri Magic in Numbers
3: Number of markets Agri Magic plans to penetrate next, specifically China, Japan and Austria. Other markets in Europe are also being targeted by the company.
13,000: Number of tonnes of soybeans the company can accommodate in its 17 silos
1,000: Average number of tonnes of soybeans one silo can contain
$100,000: Average cost to build one silo 
WANT TO LEARN MORE?
Visit Agri Magic's website