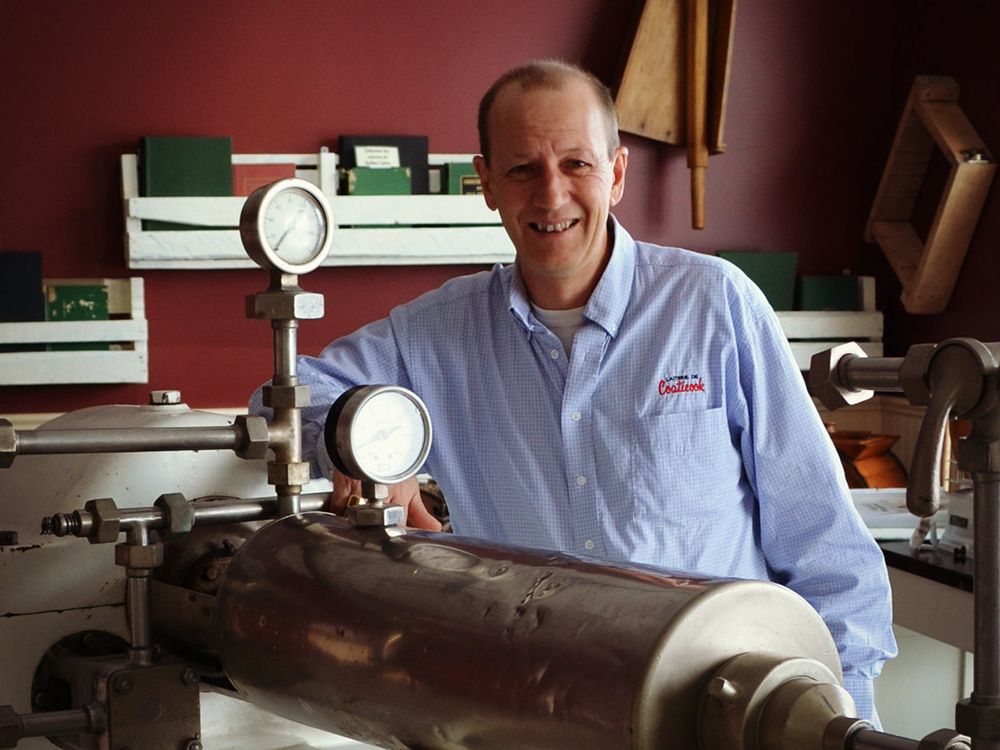 Laiterie de Coaticook: Sweet success
Jean Provencher's Story
In 2020, the Laiterie de Coaticook will celebrate 80 years in business—a feat in itself in the ice cream trade, which has been rocked by many big changes. Jean Provencher took over the business along with his sister in 1989, driving its growth by focusing on its star product, ice cream.
From washing milk crates to distributing popsicles and sweeping the factory floor, Jean Provencher did it all—he started working for his father at Laiterie de Coaticook when he was only around 10 years old. The elder Provencher had bought out the business with his partner, Fernand Houle, in 1976.
This takeover by a group of Coaticook investors had also sounded the death knell for the company's milk, chocolate milk and cream distribution, which were all products dating back to the founding of the company in 1940.
After the takeover, the company's activities were focused mainly on making ice cream and cheddar cheese. "Laiterie de Coaticook was kind of their second job—my father also had a construction business, and his partner was in restaurants," explains the younger Provencher. "Their challenge was to make the business profitable, but they didn't want it to get any bigger."
Over the years, Jean and his sister, Joanne Provencher, wanted to advance the company's business model. In 1989 the pair officially bought out the Laiterie, for which they paid market value. "We were already managing and controlling the company for the most part, but without having any access to its budgets or profits," he emphasizes.
"Once we got a hold of them, we needed to think about how to manage and invest them in order to grow the business."
Jean Provencher
One truck and hundreds of delivery routes
Purchasing a new ice cream truck was the first major decision they had to make. "That ate up 50 percent of our profits, but we had no choice given we wanted to develop new delivery routes," he explains.
Choosing to run with ice cream instead of cheese seemed like the best road to take, since it represented 80 percent of their revenue at the time. "The development of the cheese industry exploded in the 1980s, to the extent that it was hard to find new market shares that weren't cornered by all the other small independent players that had arrived," explains Jean.
Every Friday morning, Jean would start off in his truck and transport his frozen treats to the Côté de Warwick cheese shop, which included an ice cream bar. Then he would drive back, stopping along the way wherever he could to drop off samples. "My strategy was to let them taste it first so they could see the difference in flavour and quality, then to follow that up by asking them about it, whether they liked it and whether they needed any."
Another important pillar for the company's growth was producing ice cream for other private brands, who would handle the marketing aspect. Such was their arrangement with Lamothe in Drummondville. "Except that sales of that ice cream went so well I had to protect my brand to ensure I didn't lose 50 percent of my revenue if the company decided to start producing ice cream themselves," states Provencher. "I needed to continue to develop the Laiterie de Coaticook brand elsewhere."
So he turned his attention to Saguenay–Lac-Saint-Jean, where he approached Nutrinor, who ordered 20,000 ice cream yule logs from him for the Christmas season. "We had never done that before, but it went well and the company guaranteed us a market that would last about two months every year," he adds. "Given how one thing often leads to another, the yule log production opened the door to province-wide distribution, which meant I needed to become familiar with the players in that area. With the popularity of the yule logs, they then asked us if we also made ice cream, and that's how we developed our brand, by word of mouth."
It's a marketing strategy Jean Provencher has always relied upon, given that they've never changed their original transparent container. "We've often heard it said that our brand has a cheap air to it, but we don't have the budget to chase the competition, who change their brand image every year," he humbly states. "I told myself that consumers would see the product for themselves and would taste the difference."
Today, ice cream still represents 80 percent of the company's revenue, and cheese 20 percent. "We still make an impressive volume of cheddar, but I decided to only sell it regionally instead of putting effort into developing it on a provincial level."
Handing over the cornet
Now it's Jean Provencher's turn to pass on the torch to the next generation. The next five years will be devoted to training the company's new leaders: his four daughters, aged 24 to 29.  
"We gave them evaluations to find out their strengths and weaknesses," he says. Once a week, the women get together to learn the basics of the trade, from how the factory operates to administration. "During the first two years, they'll accumulate information, then in the following years, we're hoping to make them the company's advisory committee so they can eventually become its decision-making committee."
Laiterie de Coaticook in Numbers
80: Number of candles on the company's birthday cake in 2020
4: Number of Jean Provencher's daughters, who will take over the company in five years
80%: Portion of the company's revenue represented by its ice cream products
4-fold: Increase in sales between 2004 and 2013, which led the company to enlarge its operations
WANT TO LEARN MORE?
Visit the Laiterie de Coaticook's website