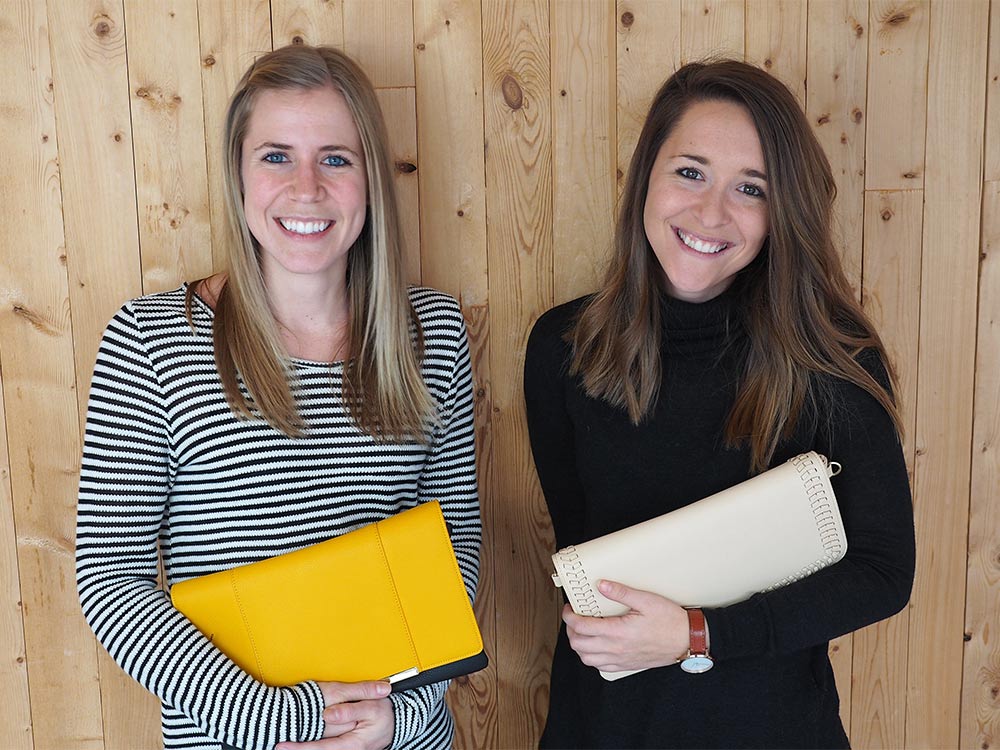 Kanevas: Bags made to measure
Mylène Cusson's Words of Wisdom
Wednesday, January 24, 2018
Mylène Cusson is the co-founder of Kanevas Inc., a company that allows customers to create their ideal personalized bag using the customizing software available on its website. This tool allows customers to choose the exterior fabric, interior storage features and accessories. Every bag is then produced by hand. Cusson and her business partner, Marie-Hélène David, believe that because every woman is unique, every woman needs her own unique bag!
When I finished university and entered the workforce, I never thought that one day I would become an entrepreneur. The possibility presented itself when my friend Marie-Hélène, who eventually became my business partner, told me about her idea of starting a company together.
How to get your business off to a good start
It was while searching myself for a bag to carry my big laptop—one that was professional-looking and free of any sequins or other knickknacks—that Marie-Hélène offered to design a bag for me. A short while later we said to ourselves we should help every woman to create her own perfect bag, and Kanevas was born out of this idea.
Marie-Hélène and I were full-time employees when we decided to start our own business. Keeping your job and starting a company at the same time requires a lot of planning, passion and willpower.
Don't treat your business as a hobby
When we started to plan our business, we established clear objectives and stages of development. We especially wanted to avoid treating Kanevas as a hobby—we wanted it to be a real and successful business. We created a calendar of tasks that needed to be done by certain due dates, thereby making the project more concrete. This way we would be more likely to stay on track and achieve the objectives we had set ourselves.
To be honest, having two heads instead of just one during our first year was definitely an advantage, since together we could remind ourselves of our objectives, make clear decisions and keep our passion alive!
Talk about your idea
We both believed for a long time that if we spoke about our project before it was ready, someone would copy our idea. Were we ever wrong! The start-up period is the best time to discuss your idea with other people in order to challenge yourself and seek out advice from people that have already been through what you are experiencing. You have to remember that even after you launch, anyone can copy your idea. So you might as well take advantage of any advice you can get and apply it as soon as possible.
The highlight of Kanevas' first year of operation was during the launch of our crowdfunding campaign with La Ruche Québec. That's when we first realized we were really out there in front of everyone, presenting our company for the first time to the general public. That campaign was a key element to our business, since besides looking for the funding we needed to develop, the campaign also tested our product and validated that our idea responded to a need in the market, plus it allowed us to receive feedback from our customer base. 
Surround yourself with the right people
When we first started Kanevas, we had the opportunity to be part of the first class at the Académie de la relève entrepreneuriale–CDPQ. This one-year program allowed us to meet other entrepreneurs who were going through the same process as well as professionals from various areas of expertise. The first year of business is always one filled with challenges, so there's nothing better than being able to surround yourself with people who can really help you with your questions and thinking process and guide you during times of uncertainty. 
Whether it's a group of entrepreneurs, experts in various sectors or a mentor, get guidance as soon as you can! 
Be flexible
When we officially launched Kanevas, we had an excellent product and a good website. Even though there were things that didn't completely meet our expectations, it allowed us to start selling and immediately receive the first comments from our customers. After that, it was easy to evolve our product and website according to our customers' experience. By being flexible during our development, today we are able to continually adapt Kanevas to the needs of our clients.
There is no magic formula for succeeding in business. However, one thing is certain: It's important to stay true to your objectives and remain passionate about your idea. 
Want to learn more?
Visit Kanevas' website