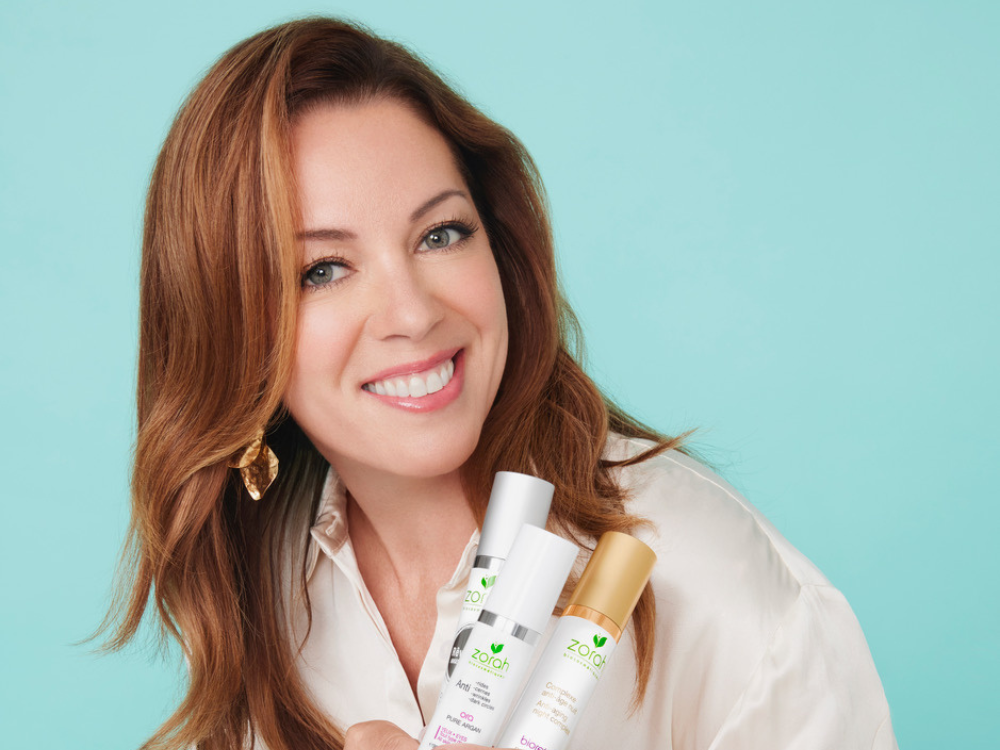 Zorah Biocosmétiques: Clean Beauty for a Healthy Growth
Mélissa Harvey's story
Friday, November 10, 2023
For the past fifteen years, Mélissa Harvey has been working to change the beauty industry from within, with her company Zorah Biocosmétiques. The Montreal brand offers makeup and skincare products that are organic, fair trade, animal cruelty-free, and made using environnementally friendly argan oil.
Long before the clean beauty movement started gaining momentum in the cosmetics industry, Mélissa created the niche of high-end organic skincare in Quebec.
THE BEAUTY OF AWARDS
A sign that Zorah Biocosmétiques truly stands out when it comes to clean beauty is the fact that the company has won numerous Clean Beauty Awards, which recognize the most effective beauty products made without using ingredients that are toxic to humans and the environment.
Winning awards can drive a brand's growth, and the most recent award win for Ora Eye Cream has been particularly significant for Zorah. "That really opened doors for us. This year, we will probably double the size of the company."
"The quality of our products and the Clean Beauty Awards open the door to the international market."
ARGAN OIL: THE CRÈME DE LA CRÈME
Mélissa learned of the existence of this oil in 2000, while on a work internship in Morocco with Oxfam-Quebec. "I happened to be placed in a cooperative of Berber women, and that's where I was taught about argan oil."
In Morocco, the argan tree has been used since ancient times for its regenerative, healing, and anti-inflammatory properties – which makes it an ideal ingredient for people who have to deal with rosacea or eczema, for example.
Since its beginnings, Zorah has used argan oil as its main excipient (that is, the substance that serves as the vehicle to let active ingredients incorporate together). This is in contrast to the big brands, which use mineral oil, a petroleum-based oil that is much less expensive, but that is considerably more harmful to the environment – which is why Zorah does not use it.
HARNESSING INNOVATION TO SERVE NATURE AND HUMANITY
Mélissa uses scientific processes to naturally extract nutrients from the argan tree, right down to its leaves, which she uses in her cosmetics in an organic and ethical way.
"We make a major investment in the research and development we do every year."
Once R&D is complete (and this process can take years) Zorah Biocosmétiques' skincare products are all created locally in Zorah's 15,000 square foot Montreal workspace. The company even has its own on-site lab, which is quite rare in the industry.
PUTTING THE ENVIRONMENT FIRST
Mélissa is part of the Cheffes de file, a business leaders initiative of the Caisse de Dépôt et Placement du Québec that aims to drive the growth of women-owned businesses. "Through working with the Cheffes de file, I've met new friends and made new contacts. It's a community of women business leaders who help and support one another."
Mélissa continues to shake up the beauty industry just as she'd promised herself she would from the start. She and her team are also on the cusp of completing a long-term initiative to make Zorah Biocosmétiques a zero waste company; an official announcement is expected within the next few months.
A FEW FIGURES
Find out how far Zorah Biocosmétiques has come since 2016 by watching our video on Mélissa Harvey's defining moment!
30 full-time employees and 5 part-time employees
$500,000 in facilities and R&D investments each year
65 brand SKUs
50% in revenue growth in 2022
15% of sales made online and 85% of sales made in-store
1 000 points of sale in Quebec, with approximately fifty more elsewhere in Canada, the United States, and Switzerland
WANT TO FIND OUT MORE?
Visit the Zorah Biocosmétiques website to learn more about the brand and its high-performance argan oil products.