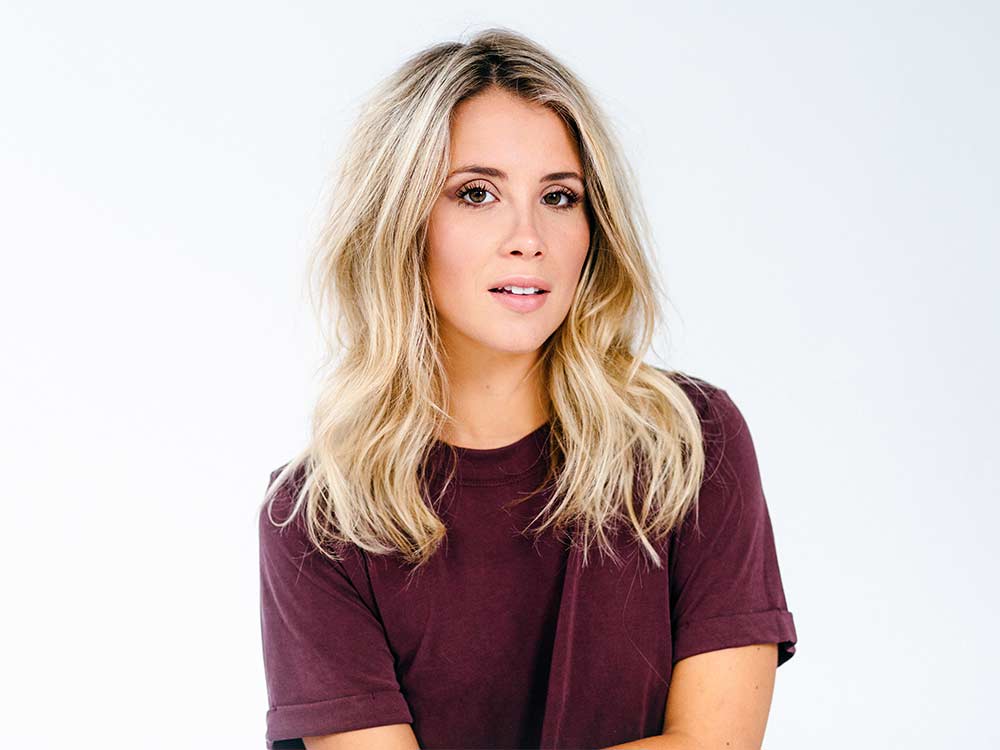 Womance: Making pop-ups permanent
Andréanne Marquis's Story
Wednesday, March 14, 2018
A former participant in a business-related reality TV show, Andréanne Marquis hasn't had a typical career trajectory. But it wasn't her celebrity that led to her success, but rather her style savvy and ability to innovate.
Although she was always a fashion devotee, Andréanne Marquis had never wanted to open her own boutique before launching Womance, an online clothing and accessories retailer. A chain of circumstantial events paved her path to entrepreneurship in 2015.
"I had 10,000 followers on Instagram—which was a lot at the time—when brands started giving me their clothes to wear, though without paying me, because there weren't any paid influencers then like there are now," she explains. The 2012 winner of the Occupation Double reality show recognized she had an opportunity to start her own fashion business and lend visibility to her own clothing line, instead of those of other brands. 
At that time, Marquis was working as a political press secretary. "It's a world where people work long hours," she states. "So I asked myself, Considering how much energy you're putting into a project that isn't your own, what would happen if you invested that into something that actually belongs to you?"
Fans are not necessarily customers
So Marquis set out looking for suppliers, discovering the art of negotiation and learning about e-commerce through a lot of trial and error—a steep learning curve for someone who considers herself 80 percent artist and 20 percent entrepreneur.
Although the public knew who Andréanne Marquis was, this wasn't enough to earn her a lot of sales when she first launched. "From the start I had between 10,000 and 15,000 email addresses on file," she recalls, "but I only sold two sweaters in my first week. Fans don't necessarily turn into customers."
See also: Using social media to grow your business?
The e-boutique/physical store hybrid
In the spring of 2017, Marquis transferred her company's head office in her basement to offices in Quebec City. The entrepreneur had often received comments from customers who asked whether she had a physical location where they could see the clothing before making a purchase. 
So Marquis and her team rented a retail space in a shopping mall for one day in order to display her products. To her great surprise, the one-day boutique was highly successful. "Having a permanent store was too big of a financial risk," she says, "but we found the perfect formula in the pop-up boutique."
The Womance team repeated the experience by transporting their racks of clothing to Magog and Saguenay on weekends.
News of their activities quickly reached the ears of Cominar, a real estate investment fund that managed around 20 large shopping centres across Quebec. A curious fund manager at the company contacted Marquis. "He told us he had never seen anyone rent a retail space just for one weekend," she recalls. "The pop-up store idea still wasn't very well known here."
Womance and Cominar created a partnership that allowed Marquis and her employees to open one-week pop-up boutiques in regional shopping centres across Quebec. "The morning of every first day, a hundred girls would be lined up waiting outside the store," she recalls proudly.
Turning shopping into an event
To attract customers, the Womance team did more than just sell clothing and accessories. They joined up with other mall retailers in order to offer gift bags.
"The idea was to create an event in order to reignite interest in shopping malls and encourage young people to visit."
Marquis constantly looked for a new idea for every pop-up location in order to lend the opening an experiential aspect. For example, in Montreal she asked a hair stylist friend to primp potential customers in-store for the opening. Previously she had collaborated with a restaurant and organized an evening conference.
Right from the start, the formula worked. Between June and December 2017, Womance sold three times more clothing and accessories than during all of 2016. Two-thirds of its sales came from pop-up boutiques and the rest were online. 
The Womance pop-up ended up visiting around a dozen different cities. "No one had ever tried this formula before," states Marquis. "Retail professionals most likely would have tried to steer me away from it, but I followed my instincts and it worked, because instincts never lie!" 
Womance in Numbers
4: Number of employees, plus 6 freelancers and temporary staff for the pop-up boutiques
10: Number of cities in which Womance had a pop-up
18–35: Age range targeted by Womance  
Want to learn more?
Visit Womance's website