When Following your Passion is not such a ((Big)) Luxe
L'histoire d'Alex Bastide
Since he was a teenager, Alex Bastide could not imagine himself ever having a boss. Driven by ambition, he opened his first store at the tender age of 19. Almost two decades later, he opened the restaurant L'Gros Luxe. Here we have before us the portrait of a passionate entrepreneur.
Underworld: On a Roll from the Start
The young entrepreneur took his first steps in the business world when he founded the skateboard shop Underworld in 1995. The shop had a ramp for skateboarders and a cabaret style venue for shows. "At the time, the concept was one of a kind. People came from all over: Canada, Vermont ... We opened on St. Catherine in 2000, Vancouver in 2004, and I even had a TV show! "He says.
L'Gros Luxe is born
Alex Bastide lives to create and establish new brands. In 2014, a new project took root in his head while he was managing Cabaret Underworld part-time: L'Gros Luxe Restaurants. "From cabaret to restaurant-bar, it was a small but logical step. The more I worked on my business plan, the more I was convinced that it was going to work."
Ambitious and clear-headed, Alex Bastide immediately signed two leases for L'Gros Luxe. The message was clear: it would be a chain. Two years later, five branches are up and running across the province, two more are set to open, and it's far from over! The entrepreneur's dream is to reach the magic number of 50 restaurants on two continents in the next ten years.
Focused on the customer experience, Alex Bastide created a new mobile application concept for L'Gros Luxe: it shows the availability and wait times at all restaurants in the chain. The app is a unique initiative in the restaurant world. "I did not want to make people hang around, waiting aimlessly! When you decide to come, you register and they tell you when to arrive."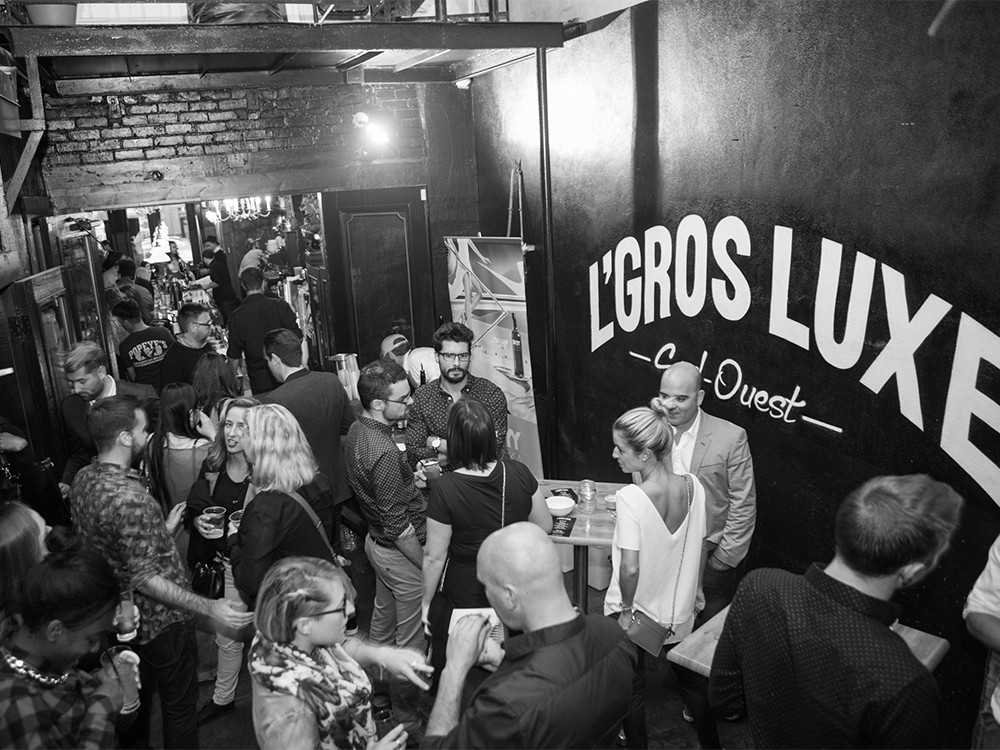 The Importance of a Business Plan
Why are his restaurants so successful? According to Alex, it is thanks to the concept (affordable menu featuring fresh produce from local suppliers), good, conscientious service, prime locations and a solid team. Alex Bastide is determined to make the chain a success, but more than that, he wants it to reflect his human values. The many vegetarian options on the menu are there for a reason: he himself has been a vegetarian for 20 years. In March 2016, he announced the transformation of L'Gros Luxe on St. Andrew Street in Montrealinto a 100% vegan L'Gros Luxe.
His major tip for those interested in starting a business is: "Make a business plan. Have it reviewed by 50 people, a lawyer, a notary ... It's serious.  With employees to look after comes social responsibility. "
L'Gros Luxe in Numbers
5 restaurants open to date (early 2016)
220 employees
2,000 patrons served every Friday night
1 application, a sort of "virtual queue"
Want to know more? 
Visite the L'Gros Luxe's website.