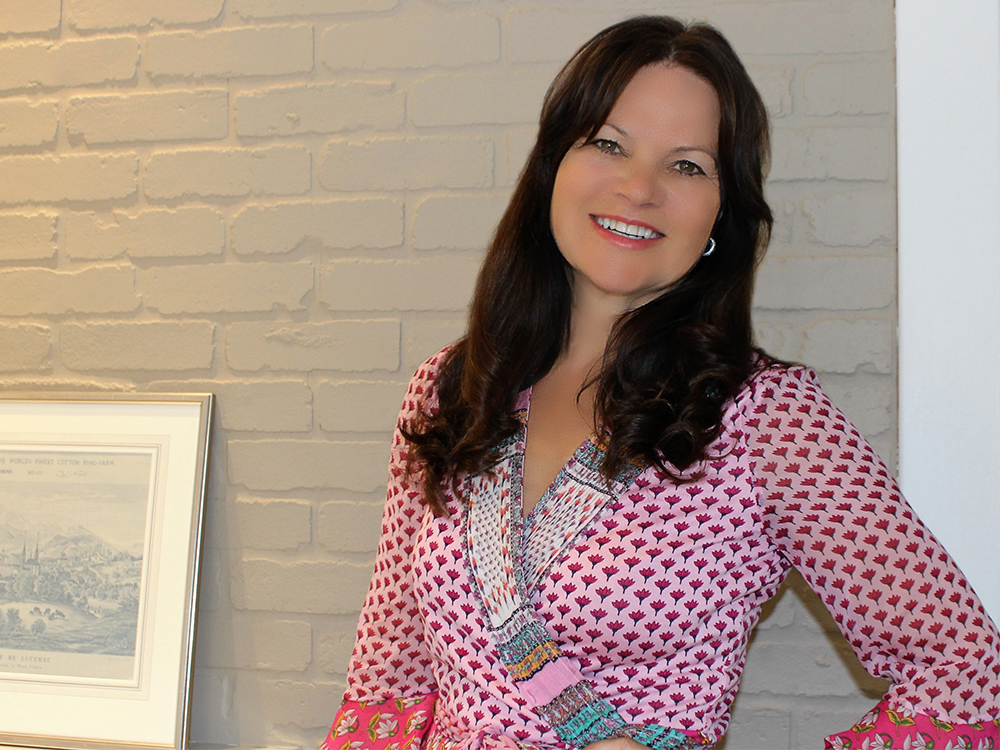 Régitex: weaving together success one string at a time
Lisa Fecteau's Story
Thursday, January 19, 2017
When she founded Régitex, Lisa Fecteau never suspected that she would go through one of the worst crises in the history of Québec's manufacturing industry. Today, she is the head of a successful company located in Saint-Joseph-de-Beauce, where hierarchy has been abolished and employees manage their own schedules.
Lisa Fecteau has always been surrounded by textiles. From an early age, she saw her father Réginald Fecteau rise from the status of a small entrepreneur in Beauce to that of a Quebec magnate in the textile industry. In the 1990s, the family business Textiles Du-Re produced 400,000 pounds of yarn per week thanks to the work of 400 employees. The company was recognized as the largest of its kind in Quebec and even in Canada.
But it wasn't all rosy; Lisa's father worked up to 18 hours a day. Tired, he ended up selling his share of Textiles Du-Re to his partner in 1998. With the money he obtained, he invested heavily in the start-up of a new family business, Régitex, of which he handed over the reins to his two children who were in their thirties: Lisa and Sylvain Fecteau.
Discover also : M0851: bring creativity and humanity together
Quickly, the company positioned itself as a leader in its field in North America. "It's all thanks to our father and his hard earned money that we became successful," acknowledges the one who now runs Régitex alone.
Surviving the Storm
The honeymoon phase didn't last long. In the early 2000s, textile activities became increasingly concentrated in Asia, where labour was cheaper. The furniture and clothing markets, which account for 85% of Régitex's business in 2005, were eroding quietly. The main players were falling one after the other.
"Every year, we saw our customer portfolio transform from top to bottom. At one point, our main supplier, who was giving us 80% of our raw materials, announced its closure. It took us a year to replace it, a process that forced us to come face to face with reality. Fortunately, I had always been cautious and had a substantial amount of money set aside to keep us from sinking," she recalls.
At the same time, Lisa Fecteau noticed that the field of technological textiles was growing steadily and that there were business opportunities to seize. Quickly, she shifted gears from furnishings and clothing and moved towards high performance fabrics. "Everything was new to us in this sector, it was like starting a new business. That's why we moved into new buildings in Saint-Joseph-de-Beauce, while staying connected to Saint-Éphrem-de-Beauce," she explains.
In 2010, Régitex had completely transformed. The company's old markets now represented only about 5% of the company's sales.
Business without hierarchy
Once Régitex's survival was assured, Lisa Fecteau tackled another colossal project: redefining the management process of her own business. "At the time, I realized that the management philosophy advocated by my board of directors (CA) was contrary to what I believed in. Under its guidance, I had the feeling that I was not being a true entrepreneur," she recalls.
In a surge of courage, she abolished her board of directors and gave more decision-making power to her steering committee. Though experimental, the formula was quick to prove itself. After a year, Lisa Fecteau faded from the latter. "I told them they were able to drive the boat themselves. And it was true: they were making better decisions than me! Exclaims the one who nevertheless still continues to follow Régitex's activities closely.
Soon after, the model was applied to the rest of the company. Departments were abolished, and instead twelve work teams were created in function of everyone's interests. All of them put their efforts together to tackle, often in innovative ways, problems they wanted to solve. From now on, it was the employees who were responsible for Régitex, and it worked!
"Alone in a corner, we can make mistakes without anyone noticing. In a group, it's impossible: nobody can make ridiculous decisions because everyone is responsible for the consequences."
Lisa Fecteau
Lisa Fecteau announced to her employees last year that they wouldn't be punching in their time cards anymore. From now on, they would be paid weekly instead of hourly. "In my eyes it's the mark of supreme confidence. Give confidence and you will gain confidence," concludes the entrepreneur.
Régitex in Numbers
90: The number of employees at Régitex
70: The percentage of sales coming from the United States
2: The number of factories
From 1 to 1.8M: The investment in Canadian dollars that goes into Research and Development
 
Want to learn more?
Visit the Régitex website