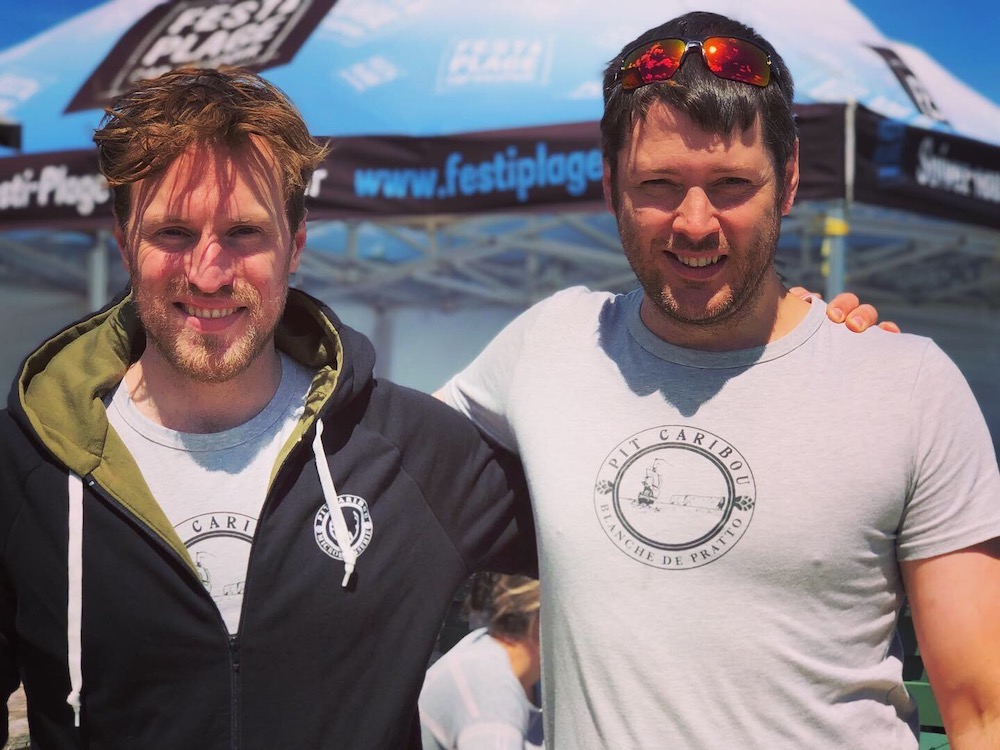 Pit Caribou: The Gaspesian Microbrewery Makes a Splash in France
Vincent Coderre and Jean-François Nellis' story
In 2019, Vincent Coderre and Jean-François Nellis acquired Pit Caribou, a company located in L'Anse-à-Beaufils, in Gaspésie. The two Gaspesians are running the microbrewery and the pub in Percé.
Vincent and Jean-François were looking for a reputable company that had the potential to develop and expand within the agri-food industry. In the case of Pit Caribou, "Its growth was blessed with favorable winds," summarizes Vincent.
A BRAND ANCHORED IN GASPÉSIE'S HERITAGE
It is impossible to dissociate Pit Caribou from its Gaspesian roots. Its brand identity is intrinsically linked to the region, including the names of its new beers. Pointe O'Hara, Île aux Hérons, fourche à Ida… Gaspesian toponymy is an inexhaustible source of inspiration!
"For people who visit Gaspésie, drinking our beers brings back memories of their trip."
It goes without saying, Pit Caribou has become a must for brewery tourism in the province. "We are part of the Route des bières de l'Est du Québec, so it proves that there's a real craze around this kind of local product. They attract people to the region who would not have made the trip otherwise."
For those who haven't yet had the chance to road trip all the way to Gaspésie, the Pit Caribou pub located in Montreal offers a taste of their craft beers before buying them in grocery stores or specialized beer shops.
CROSSING OVER TO THE CAN MARKET
During the pandemic, Vincent and Jean-François increased the number of Pit Caribou points of sale by entering major banners such as Maxi, Provigo and IGA. This approach pushed the entrepreneurs to accelerate the automation of their operations to meet the growing demand and to compensate for the workforce shortage.
Despite an annual production of about one million litres, Pit Caribou often runs out of their supply during summer. Within the next two years, the microbrewery plans to increase its production capacity by 30 to 40% thanks to automation.
The addition of a centrifuge and a canning station will allow the microbrewery to step up their game. Up until now, Pit Caribou solely offered their products in bottles and was therefore cutting itself off from significant market share, as cans now occupy 60% of the market.
"Our canned product is highly anticipated. There will be a lot of hype, that's for sure!"
CONQUERING FRANCE
"It is a source of pride for people from Gaspésie, no matter where they are, to see that a Gaspesian product is displayed on shelves in Montreal, Quebec City and other regions." These "other regions" have started to spread internationally, as Pit Caribou beers are now distributed in France.
The two Gaspesians do not intend to stop there and are already planning to court the rest of Europe, as well as Asia and the United States. Will an international head office for Pit Caribou soon be established in L'Anse-à-Beaufils? Only time will tell!
A FEW FIGURES
40 employees
10,000 hectolitres (100 L) of brewed beer per year
2,000,000 cans to be produced over the next year
230 tons of grain used every year
WANT TO LEARN MORE?
Browse Pit Caribou website to learn more about this Gaspesian microbrewery. The Montréal and Percé pubs are open to the public.