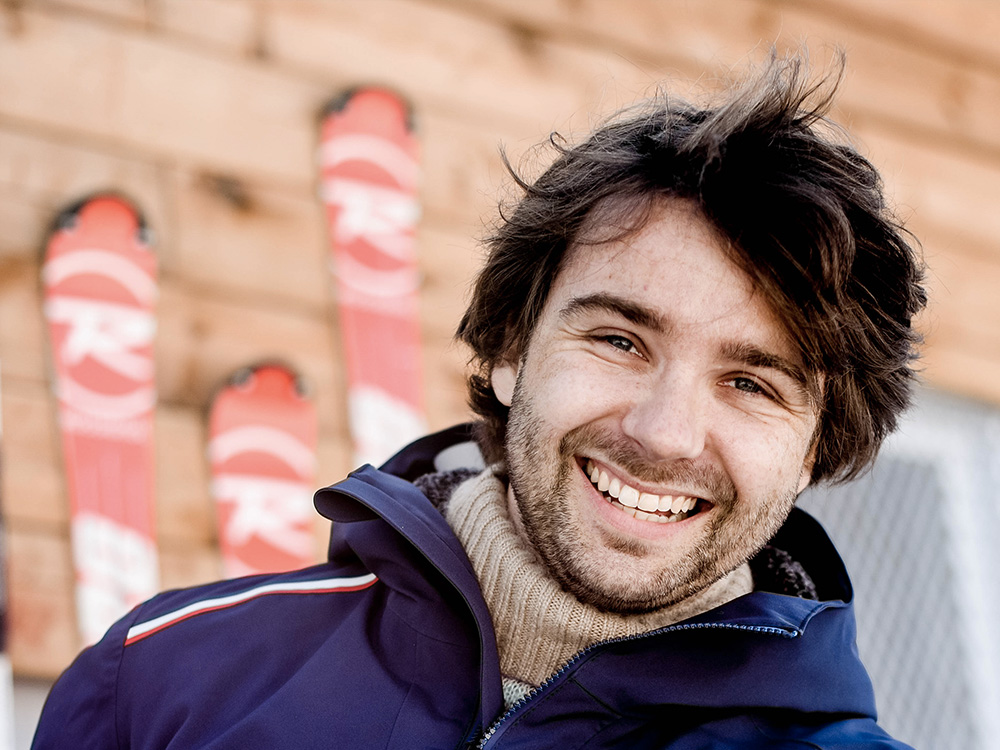 Pente à neige: Appreciating winter sports in Montreal
Estéban Dravet's Story
Born in the Alps, Estéban Dravet was always able to participate in winter sports, including skiing, located just a few steps from his own doorstep. After moving to Montreal over 10 years ago, he made it his mission to offer Montrealers the same everyday enjoyment and to revive this forgotten aspect of the city's lived heritage. 
Ever since he first established himself in Montreal, Estéban Dravet has observed the city's existing winter initiatives. "While some like Igloofest or Fête des neiges were really great, they were all temporary and didn't last for the whole season," he explains. "To take part in winter sports, you generally have to get in a car on the weekend and leave the city."
While going running on Mont-Royal he discovered that it used to have a ski lift. Motivated by the discovery, Dravet and two other people drew up an 85-page brief and presented it to the Conseil du patrimoine du Québec, their idea being to revive the mountain's sports-related heritage.
But despite their many attempts to obtain a permit from the city for the project, which would last three days, they were met with refusal after refusal.
"Finally, in 2017, we found another site that had already offered skiing that was located in Sud-Ouest: the old Newman hill near Angrignon metro," he explains. "The project was accepted as a four-month contract."
Big media pull
Dravet had no idea that presenting their Mont Royal project would provoke such passionate responses. "We were dragged into 20 intense days where they were asking us to appear on the radio, TV, in newspapers…" he says. "It was intimidating at first because I had never had any contact with the media before that, so it gave us a bit of publicity." 
The new visibility brought offers of help from several organizations, and also brought the project to the attention of elected officials and stimulated Montrealers' interest.
It should also be noted that before the media coverage, Pente à neige had been accepted into Concordia University's District 3 incubator at the end of 2016, which was an important milestone for the organization, helping them to clarify their mission, the needs they intended to fulfill, their values and their target clientele.
When the City officially accepted their project in September of 2017, Pente à neige had succeeded in securing  $250,000 in private funding and $115,000 from the Quebec government. "These were significant amounts for a non-profit that had only been around for a year," he emphasizes. "And that's not including the fact that we were able to generate revenue on our own from our first season."
Promoting skiing in an urban environment
The site selected for Pente à neige had "the potential to offer the longest snow-tubing slope on the entire island of Montreal." This activity was offered starting in the very first season, in addition to a small ski slope.
Their set-up was basic: a heated yurt for kids and their parents, a simple ticket office and a shipping container for equipment rentals.
"We needed to be creative to find the lowest cost solutions, since we weren't able to deliver the same level of product available at ski resorts in Quebec," he emphasizes. 
This meant they had no snow groomer, since the cost of a single machine could be as high as $380,000, which was their entire annual budget for their first year of operations. 
"The site was so small compared to normal resorts that no technical solution or product existed that corresponded to our reality," he adds.
Managing the site in winter was another challenge that the team brilliantly overcame, despite their inexperience in the sector. None of the team members had previously worked with 60 employees, managed a ski school or handled snow removal for any site. 
"While no one in the Quebec ski industry knew us at the start, by the end of the first season we had earned the respect of the industry's suppliers and professionals," Dravet confirms.
Starting in their second season, the site was enlarged so it could accept more skiers and the layout was redesigned to make it more welcoming. 
Out of the same desire to democratize winter activities, Pente à neige created a financial accessibility policy, which offered people the possibility of paying according to their income. By presenting their tax statement, they could receive a price reduction or even get a free ticket. Others could choose to contribute an additional amount depending on how highly they value the service. 
"Last winter people offered to make an additional contribution at least a hundred times. We also started a crowdfunding campaign on La Ruche this year to support our policy," he emphasizes.
Experiential shift
This third year of activity in 2020 marks a major step in the growth of the organization.
"We've left the start-up phase and fallen into consolidation and also responding to our customer base, which hasn't stopped growing for two years."
Estéban Dravet
 
The site was visited by 33,500 people last year, making it one of the most frequently visited resorts in Quebec for its size, Dravet affirms. Based on current forecasts given the number of tickets sold online for skiing and courses, this number should double in the 2019–2020 season.
Two ski lifts will be added to the existing lift, as well as a new snow groomer. The area of the site will also be enlarged by a factor of five.
In addition to the beginner ski slope, the site will offer a true intermediate-level track of around 150 metres and a serious downhill slope, which can be accessed with a T-bar like those that used to exist on Mont Royal. "We even have a university slalom team that should be coming to train after their evening practice instead of having to drive for an hour and a half," he emphasizes.
Although Pente à neige is aimed at families, it's enlarging its customer base with these new additions.
"We also created an independent learning zone, which we call Premier départ [First Start], so that people who want to learn on their own can start with the help of three billboards that present a few illustrated challenges," he explains. 
Similarly, the snow park and snow-tubing area were expanded and laid out differently. Finally, the bistro-style restaurant will now offer a wider selection of foods.
Efforts were also made to attract more tourists, who visit the city over the holidays. "We'll offer them a universe that will allow them a little taste of what to expect in the region of Quebec, but without having to leave Montreal—for example, on the maple syrup theme."
A third phase of improvements is planned for 2022, during which the site's experiential and cultural aspects should be strengthened.
"We're also open to having a third site since we've almost reached our current limits," proposes Dravet.
Pente à neige in Numbers
70,000: Number of visitors expected in the 2020 season
60: Number of employees in 2019
$365,000: Amount of public and private financing received since the start of the project
WANT TO LEARN MORE?
Visit Pente à neige's website