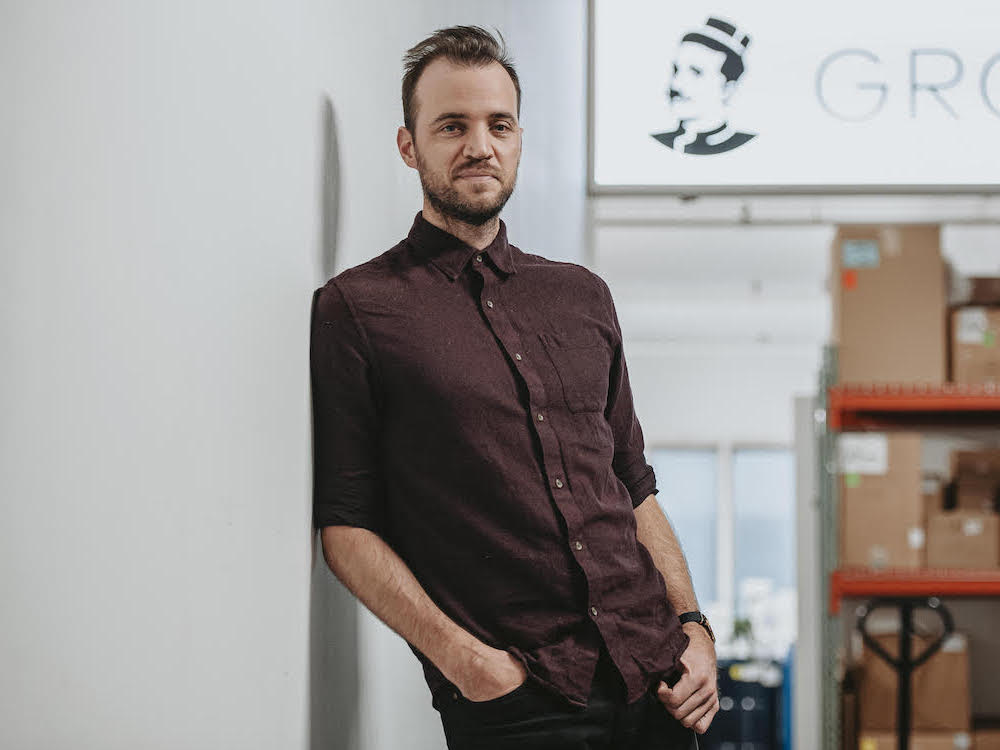 GROOM: Going Beyond Trends with an Array of Beard Products
Julien Blanchard's story
Since 2014, GROOM has been offering men's skin care products made from natural ingredients. First known for its shaving oil, moustache wax and beard oil, the Montreal-based company led by Julien Blanchard has grown thanks to its diversified offering and its close relationship with its community.
TIMING IS EVERYTHING
Shortly before the company was founded, moustaches and beards made a comeback into men's fashion. New barber shops were popping up, as well as speakeasy bars serving retro cocktails in an ambiance reminiscent of La Belle Époque.
Julien himself grew a moustache but couldn't find a Quebec or even Canadian brand that offered grooming products. Founding a company with a front-row seat on this revival of male facial hair? It was an opportunity the entrepreneur couldn't resist!
"We were there at the right time, at the start of a whole movement, with just the right amount of candour and enough time on our hands."
The trend has grown and other companies have taken up a spot within the same niche. "Today, I look at these companies and I feel like they belong to a different era. GROOM has expanded its offering and has remained relevant, even more so than it was at the height of the trend."
DIVERSIFY AND CONQUER
The Montreal-based company started with three products—beard oil, shaving oil and moustache wax—and now offers more than 20. Their line includes hair and body care products, such as a shampoo, deodorant and face wash.
Needless to say, this diversification of their product offering has required a lot of research and development in recent years. "We enjoy going deeper and playing with different ingredients to meet our community's new needs."
Choosing natural ingredients has always been part of GROOM's DNA and, today, it is part of a sustainability-centred approach. To reduce its environmental impact, a year and a half ago the company obtained a rePurpose Global certification that attests its negative plastic footprint.
"The quantity of plastic for each item sold is weighed and we pay double its monetary value established by rePurpose Global to contribute to the management and removal of plastic waste worldwide."
A WIN-WIN BUSINESS RELATIONSHIP
The growing number of new GROOM products has also made their transactional site more relevant than ever. Their online store has the advantage of offering all GROOM products in one place, whereas not every point of sale necessarily carries the full range of products.
Even though the Web allows for greater accessibility and agility, GROOM's in-store presence has its own advantages. "Outlets have credibility. People go there to browse new products and they trust the retailers."
The business relationship is a win-win for both sides, as stores and barber shops are happy to be able to recommend quality treatments to their customers that not only look good on the bathroom counter but are made by a local company.
THERE IS ALWAYS MORE TO LEARN
When he started his business, Julien didn't have an entrepreneurial background or management experience, but a bachelor's degree in literature. "There are many things I had to learn on my own."
As he believes he's still learning the ropes, Julien doesn't see himself as a "mentor," but if he had any advice to give to future entrepreneurs, it would be not leting their lack of know-how stop them. "What characterizes the most vibrant and attractive companies are meaningful ideas."
A FEW FIGURES
8 employees
30% revenue growth between 2020 and 2021
51,717 products sold in 2021
Around 175 sale points
7,965 online transactions completed in 2021
LEARN MORE
Browse GROOM's website to learn more about their products.