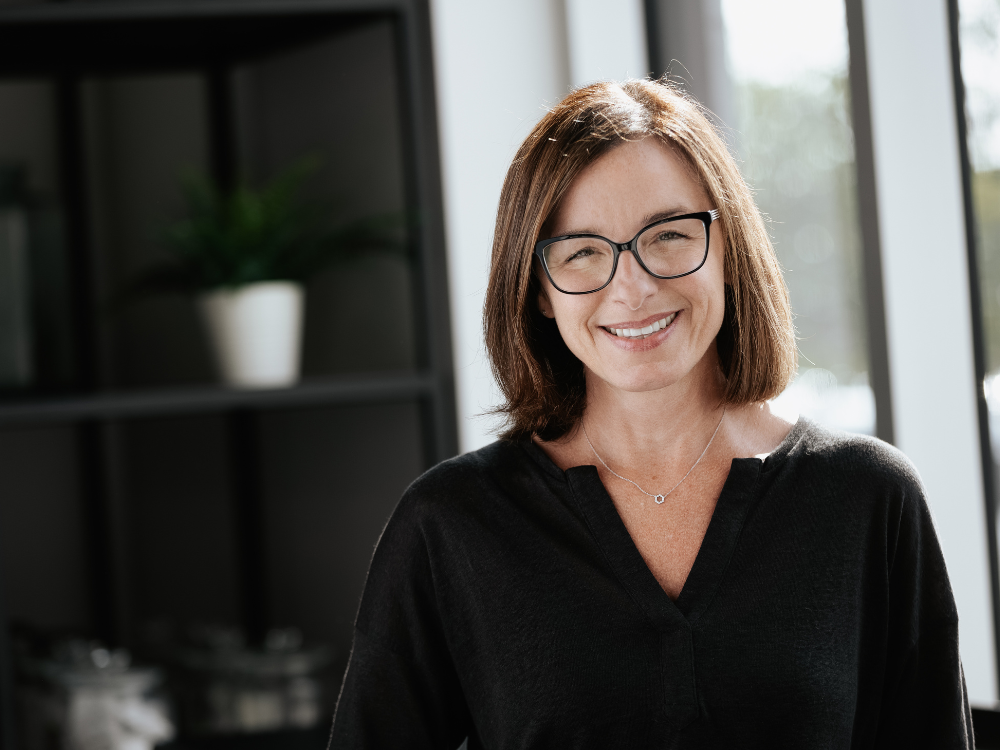 FDMT: Going Into Business to Help Thousands of Children with Special Needs
Karine Gagner's Story
Friday, November 10, 2023
Twenty years ago, what was supposed to be an everyday family dinner ended up as an entrepreneurial dream for Karine Gagner, whose company FDMT manufactures and distributes sensory tools that are now available at 1,000 points of sale across the country.
In 2002, when she was pregnant with her daughter Anaïs, Karine would never have guessed that she was about to start her own business. It was all because of a family dinner where her stepmother, an occupational therapist specializing in sensory integration, mentioned in passing how hard it was to find the specialized equipment her clientele needed.
IT'S ALL ABOUT FAMILY
The idea of kids with special needs not getting tools that could help struck a chord for Karine, so she started doing some research. It wasn't long before she and her retired-entrepreneur father would found FDMT, with the mission of offering innovative, practical, and fun solutions for children with special needs. What she did not know at the time was that her daughter would also need specialized tools. This gave her all the more impetus to fight to democratize sensory needs and to offer accessible tools that meet those needs.
"At the time, sensory tools and products were only used during therapy. But children aren't always in therapy, so our idea was to develop a sensory tool that would be available for everyday life."
That is the premise that led to the company's flagship product.
MANIMO, THE COMFORTING, WEIGHTED PLUSH TOY
That's when the company's very first product line launched: manimo, a fun new take on weighted blankets, are a line of comforting stuffed-animal "companions" that weigh between 1 and 2.5 kilos. The weight of the stuffed toys provides children with the amount of pressure needed to activate the proprioceptive system and balances the central nervous system. The result is quite simply that using a manimo makes kids feel calmer and more positive. Specifically, plush toys that are weighted can help improve kids' sensory reception and concentration. While these benefits prove to hold for all ages, FDMT specialises on a clientele aged 3 to 12 years old.
"Children all need a comforting companion they can confide in. That's just one of the benefits manimo can offer."
CLIENTS AT THE HEART OF PRODUCT DEVELOPMENT/b>
In 20 years and counting, FDMT has launched multiple lines of in-house products and distributed a variety of different solutions. Along with sensory products, the company offers accessories that help with time management and others that help improve fine or gross motor skills, to name but a few of their products. And throughout the decades of growth and progress, Karine always kept sight of what mattered most: meeting the real needs of families with children who have special needs.
"I'll come right out and say it: our best ideas come from the conversations we've had with our customers."
Karine bought out her father's shares in the business and, as President and General Manager, is proud to emphasize how her company's steady growth is thanks to extensive research, consulting with clinical and school specialists, and communication with clients and customers. FDMT products are now available in all pharmacy chains in Quebec, as well as in numerous Canadian game stores and schools, in the United States, Europ, and Australia.
"I think we've managed to help normalize and standardize special needs. "
Numbers don't lie: The company's average growth rate over the past 20 years is +15% per year.
SHARING THE DREAM
Being at the helm of a company that has seen so much growth over 20 years would be gruelling for many, but not for Karine. If you ask what her secret is, she'll say it's communication and sharing her goals and business vision with her entire team.
"It's so important that the entire team be included in our goals because that's what ensures we keep moving in the same direction."
Karine plans to continue to help as many people as possible through the benefits of pressure therapy and her company's manimo weighted stuffed animals. The next few years will be spent further developing the US market while continuing to break into Canada.
THE COMPANY IN NUMBERS
300,000: the number of children who own a manimo
1000: the number of points of sale across Canada
1500: the number of sensory and educational products distributed by FDMT
15%: the average annual growth rate since the company was founded in 2002
LEARN MORE
Visit FDMT's website to find out more about sensory tools and educational games for children with special needs.