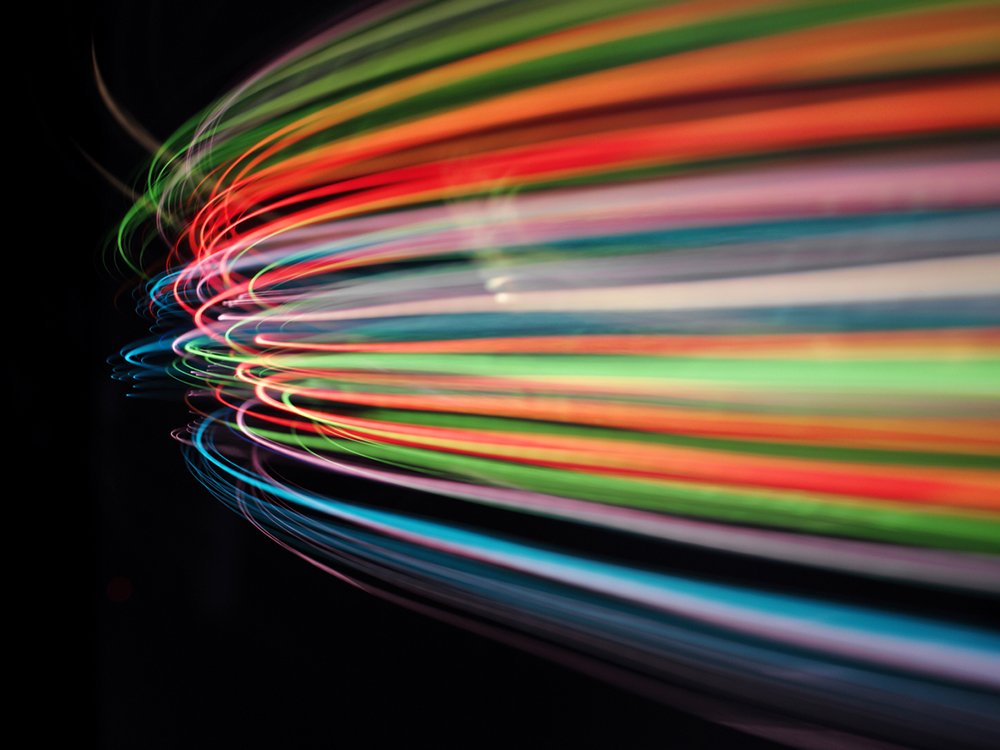 5G: A fast, connected future for Quebec SMEs
The ENCQOR project
The fifth generation of mobile internet connectivity, called 5G, will enable the deployment of a number of innovative new technologies in the near future, whether in the domain of connected objects, leisure activities, municipal services or intelligent vehicles, or in other avenues of development that are currently unknown. While the technology seems interesting in terms of user experience and for augmenting the potential of various systems, 5G still remains speculative for many. To fully exploit the potential of 5G, big companies and SMEs alike need to be ready to accommodate it, which is why the ENCQOR program was developed. Here's a backgrounder from Guillaume Ducharme, vice-president of communications and corporate affairs at CEFRIO. 
5G… and then what?
Compared to 4G, 5G will offer many advantages: ultrafast speeds (from 10 to 100 times faster than 4G), a data volume that's 1,000 times larger and energy consumption that's 10 times lower. Faster, more reliable and allowing more data transmission, 5G opens the door to the Internet of Things (which requires devices to be paired with networked sensors and software) and to a bevy of technological applications in the areas of manufacturing, transportation, health, etc.
While its commercial deployment is a few years off, many countries have already begun testing and have even, in the case of South Korea, initiated the deployment of technology related to 5G.
The project
Considering the potential of 5G's anticipated arrival, an interprovincial innovation platform has been created by the government of Canada and the provincial governments of Quebec and Ontario, in partnership with Ericsson, Ciena, Thales, IBM and CGI, with the support of CEFRIO and Prompt in Quebec. Called ENCQOR (Evolution of Networked Services through a Corridor in Quebec and Ontario for Research and Innovation), the initiative will establish the first pre-commercial 5G digital infrastructure corridor in Canada by 2022. 
The project aims to accelerate both the marketing of current products and services as well as the development of new products, services and future uses of 5G while promoting the long-term economic growth of Quebec, Ontario and, more generally, the Canadian innovation ecosystem. To accomplish this, a 5G experimentation platform was made available to SMEs and researchers in order to study and develop their technological potential. In operation since the fall of 2018, the platform allows SMEs from a range of sectors (IT, telecommunications, electronics, cloud computing, etc.) to innovate or, for those already operating in 4G, to get ready to evolve their existing technology. 
This is important work in the view of CEFRIO's Guillaume Ducharme, who notes that many SMEs postpone the application of 5G to their activities because its commercial deployment is not foreseen until 2022–2023. "Our job, with the help of our partners, is to open their eyes to the work that needs to be done now. Companies need to be ready and competitive when 5G actually becomes available."
The ENCQOR project offers four programs addressed to SMEs.
iPaaS Access
The first, which provides access to 5G infrastructure, represents a kind of entry to the project itself. In this program ENCQOR aims to provide 500 SMEs with free access to 5G testing and antennas, telephones and networking equipment over the next three years. Interested SMEs can request access to the platform—and take advantage of support for their request—in order to develop, validate and demonstrate precommercial products and services in a collaborative context. They can also take advantage of technical support offered by Ericsson and Ciena and workspaces on 5G innovation sites in Montreal and Quebec City. 
Call for projects in IT
SMEs can also bid on financing for a materials or software R&D project that demonstrates a use case in a given area. 
In this program, 75 projects will receive funding of up to 50 percent of allowable expenses, with an average financing value of $66,000.
Adoption projects
The 5G adoption program supports companies and organizations in creating, preparing for and experimenting with applications involving end users to demonstrate product, process or service utilizations relating to ENCQOR's next generation technologies for various sectors.
Financing is offered in the form of a reimbursement of up to 50 percent of allowable expenses made by the project's partnering organizations. 
Collaborative R&D projects
This program allows SMEs to co-develop solutions to 5G application problems with ENCQOR partners, depending on the commercial and business priorities of the latter. 
As part of this program, calls for projects will be announced in Quebec in the coming months requiring specific expertise.
This project offers participating SMEs the advantage of remaining a co-owner of the technology developed and puts them in direct contact with the commercial network. 
"ENCQOR's platform for experimentation and its programs definitely allow participants to retain a competitive advantage compared to other countries and to realize the technological potential of 5G for companies of all sizes."
Guillaume Ducharme
WANT TO LEARN MORE?
Visit ENCQOR's website