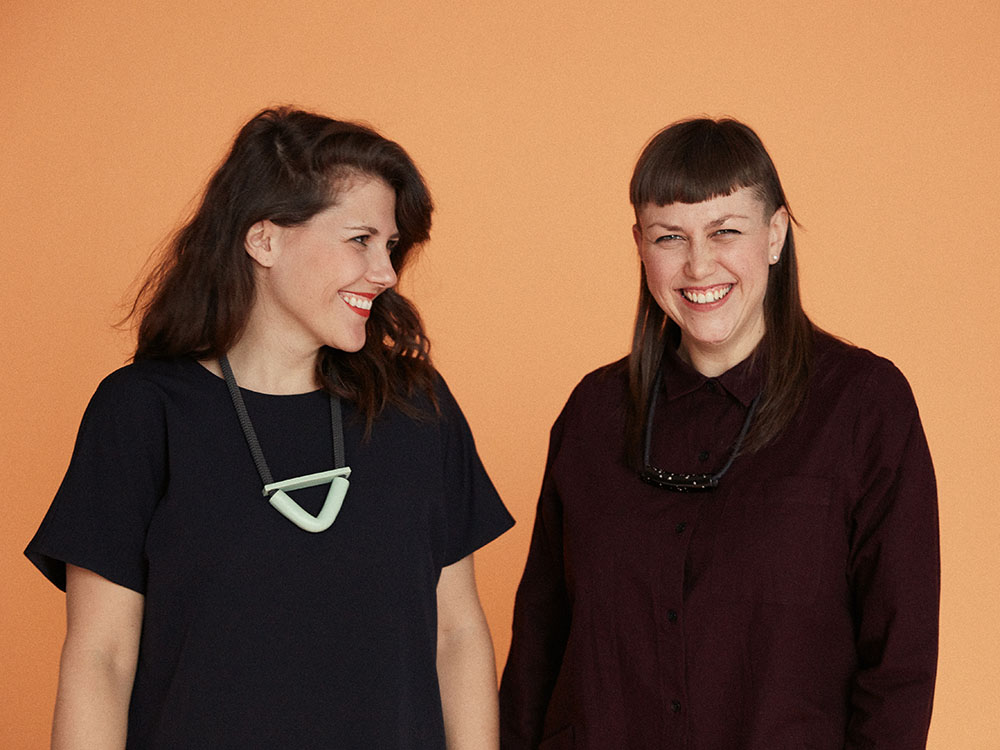 Bref: Permanent pop-up
Maude St-Louis and Cynthia Moreau's Story
Thursday, November 28, 2019
Bref, the joint entrepreneurial venture of Maude St-Louis and Cynthia Moreau, is a permanent boutique enabling browsers and collectors of art and design objects to immerse themselves in a monthly thematic universe and procure pieces from local creators that have been carefully curated by the owners.
Before getting together to launch Bref, Cynthia Moreau and Maude St-Louis were both self-employed, one in brand strategy and the other in environmental design. They met each other through a friend they had in common, and both cherished the idea of someday opening a concept store, although they didn't yet know exactly what kind of store it would be.
With this in mind, St-Louis took the initiative in the fall of 2015 and opened a pop-up called Novembre in Mile End, which showcased several creators and artists she knew and helped them sell their products.
At the same time, Moreau finally decided to scrap her former career promoting brands and began developing her own pop-up store concept. She drafted a list of people she was interested in working with, one of whom was Maude St-Louis. One lunch date was enough to convince the pair to join forces and start working on what would later become Bref.
Creating a showcase
The two entrepreneurs enrolled in a program with SAJE and drafted a concept. Back in 2015, Moreau emphasizes, there were few places in Montreal where emerging creators could receive guidance in how to sell and expose their work. "The basic idea was to offer a space where Maude's and my own expertise could be put to work to help creators get out of their basements and find support within just a few weeks." Through their showcase, the entrepreneurs wanted to contribute to developing a strong, renewed economy.
Opening the boutique
In 2016, Bref opened its doors on Bernard Street in Montreal and held its first vernissage. At the time, Bref had a website that promoted the brand and its creators by offering more information about them, their processes and their histories.
A transactional website was launched in 2017. This required a lot of work for the co-founders—maintaining the web availability of all their objects offered in-store was an arduous task. In the spring of 2019, the platform was revamped and they made the decision to improve the merchandise available on the site. Now, with each new theme, around forty products are selected and offered on the site, enabling better merchandise management while maintaining a good amount of diversity.
In terms of the selection of works and objects offered by Bref, the two associates work together to create a calendar featuring inspiring themes and search for artists who make those themes come to life. The pair decided not to put out calls for projects, but rather to curate and select relevant creators themselves, as well as develop a few special collaborations. "Our absolute favourite thing is to go out and search for creators that enable us to create a particular experience and collection. Neither of us ever neglect this aspect of our job," explains Moreau. Today the two entrepreneurs receive offers from creators every week, which helps them fill out their source list and have a good range of new ideas on offer.
Spreading their wings
Now that the boutique is well established, the team is looking to grow the business.
"In order to grow, it's a pipe dream to think that Bref in Mile End could quadruple its customer base. We have to bring the concept to other places and present Bref differently."
Cynthia Moreau
To accomplish this, Bref is participating in various pop-ups that provide visitors with a special experience while promoting local creations. Bref travelled to Gatineau for a month in the summer of 2019 to liven up the vicinity surrounding Cirque du Soleil's big top circus tent. The team also participated in the Mural festival on St-Laurent Boulevard in Montreal by putting together a display of local works. Before that appearance, Bref had also popped up on the banks of the Lachine Canal and even in Boston, at the request of a promotor who had put together an entire pop-up village.
E-commerce also remains a vector of growth for the company. According to Moreau, the challenge of the web aspect lies in the fact that Bref has become known for an in-store experience that is highly staged and based on an immersive theme—the kind of experience that's is hard to port to the web. "At our core, we're not a web shop, and we want to ensure that our online experience doesn't turn us into a traditional store."
Today, St-Louis and Moreau enjoy the fact that their day-to-day experience is always different, full of surprises and novelties. Both having multidisciplinary talents, they lead their venture while always learning a bit more every day about the various aspects of being an entrepreneur. "Since the start, we've had this strength between us that has allowed us to be very resourceful, thanks to each of our skills," explains Moreau, "and to saving a lot of money. We're hardly ever bored, since every day is filled with a variety of tasks."
Bref in Numbers
4: Number of employees at Bref

4: Number of Bref pop-ups opened in 2018–2019
Over 300: the number of creators whose work has been presented to date
 
Learn more
Visit Bref's website