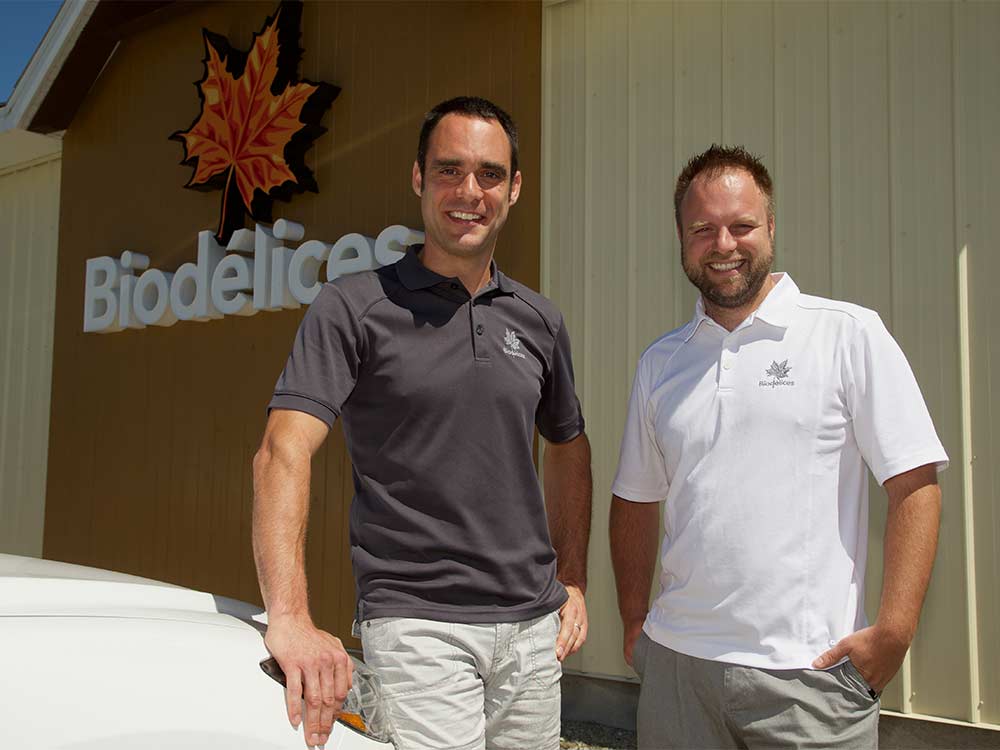 Biodélices: A family tree
Serge and François Dubois's Story
Serge Dubois was still a toddler when his father, uncles and grandfather bought a maple farm. Some thirty-odd years later, the child has grown up, taken over and now manages maple sugar producer Biodélices along with his cousin François. The company's success has spread across the globe.
For two cousins who had always been inseparable, nothing was more natural than starting a business together. "We've been joined at the hip since forever," says Serge Dubois. "I can remember when François and I were little and we would have fun sliding down the hills in the maple grove, which helped our fathers maintain the grounds."
As the years went by, their love for maple syrup production never faded. So in 2007, they founded Biodélices. "I studied electrical engineering and François did accounting. We had started our own families and wanted to create careers that wouldn't harm our quality of life." 
So they agreed on a 50/50 partnership, purchased a small workshop in Thetford Mines and started making high-quality, organic maple syrup, sugar, jelly and candies. "We only use the best barrels of maple water and opt for a long cooking time, which gives our syrup a more old-fashioned, thick smoothness, a bit like caramel." In the same vein, they avoid plastic packaging and instead prefer glass, which preserves the product without changing its flavours.
Making a name for themselves
Working in an already saturated market, Serge quickly realized that to get ahead of the pack, they needed to attract grocers throughout the entire province.
"I thought the best way to develop our network was to visit sellers and have each of them taste our products, so they could see for themselves the difference between us and other brands."
The crafty entrepreneur also developed products for tourists to be sold in the souvenir shops in Old Québec City, Old Montreal and Niagara Falls, as well as in duty-free stores. It was a spot-on tactic: Summertime, the pinnacle of tourist season, has quickly become Biodélices's most profitable season. "We sell even more during the summer than we do in maple sugar season!" he exclaims, laughing.
Exponential growth
Biodélices products have gained such a prestigious reputation, they are included amongst the gifts bestowed on visiting dignitaries (rumour has it that Nicolas Sarkozy and Barack Obama have both been recipients!) and are now sold back in the Old World. "With the help of a French master chocolate maker, we have adapted our products to the European market. I personally go there every six weeks to see how we're doing."
Recently the provincial government announced it would provide financial assistance to the company so it could construct an ultra-modern plant, set to open in 2019. "It will be the world's biggest maple syrup product factory!" states Dubois proudly.
A tightly knit family
Up to today, the Dubois family has remained at the heart of Biodélices. "My parents work putting together special orders, while François's parents operate the sugar shack. My sister, two aunts and a cousin also work with us. Our family makes up a large part of our employees and we're lucky to be able to count on them. We're also proud to be able to say that in over 10 years, no one has ever quit!"
On the strength of their success, the cousins make sure they give back to the community. Serge happily serves as a judge for regional entrepreneurship contests and visits primary and secondary schools in order to discuss his business with young people.
Every time maple sugar season rolls around, the cousins' young kids (Serge has four children between 4 and 11, François has three between the ages of 5 and 10) create their own memories on the maple farm and help out with the business. "Being able to manage the company while also being present in our kids' everyday lives is definitely our biggest accomplishment," concludes the businessman. 
The Company in Numbers
300: Number of points of sale in Canada
1,500: Number of points of sale in Europe
20: Number of countries in which Biodélices products are sold
18: Current number of employees. Eight are members of the Dubois family. 
 
Want to learn more?
Visit the Biodélices website 
Photo credits: Martin Blache, MAPAQ