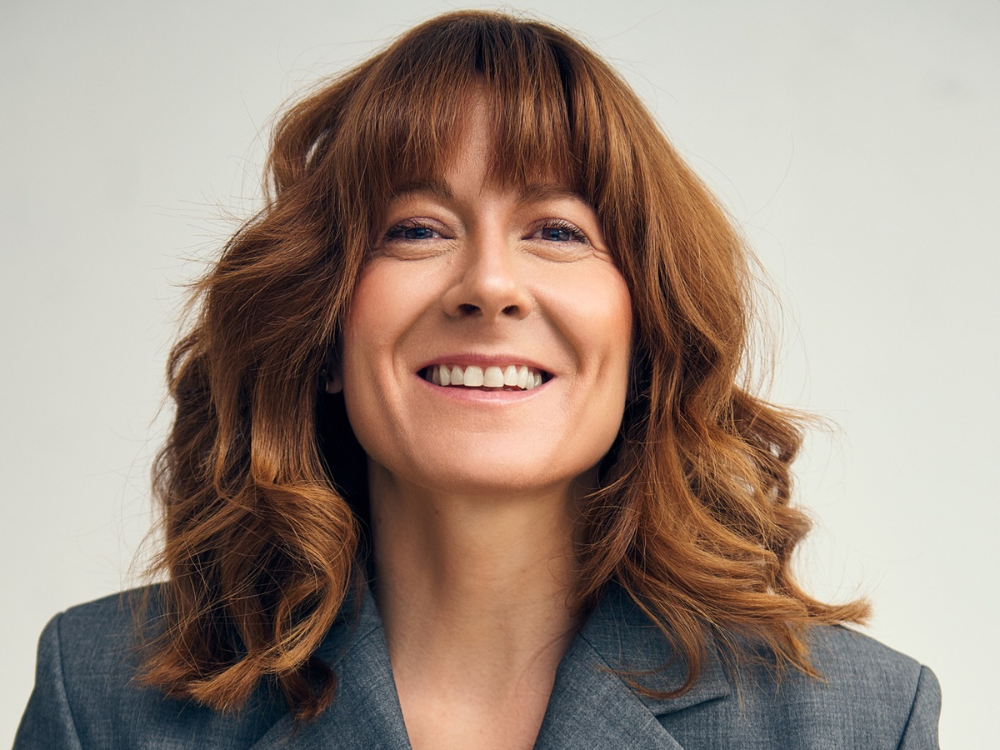 Oberson: Climbing the entrepreneurial mountain
Alexandra Oberson's Story
Friday, November 10, 2023
Alexandra Oberson's life has revolved around her father's chain of sporting goods stores since she was a child. Now she's taking over the family business and is more convinced than ever that true happiness is found on the slopes!
For as long as she can remember, Alexandra Oberson has been immersed in entrepreneurship. Born in 1979 in Cowansville, the "baby of the family" grew up around the Oberson chain of ski and bike shops that was founded by her father, Maurice, in 1964. At that time, the immigrant from Gruyères, Switzerland, had already opened ski boutiques elsewhere in Quebec. "I always felt I was at home when I was in one of the Oberson stores. It's like they were my second home," recalls Oberson, who is now 39.
After finishing her studies in operations management and logistics at HEC Montréal, she left home to work for Pratt and Whitney and, particularly, Uniboard, the site of her first professional experience in the sector. One day her parents happened to mention they were opening a new Oberson store on Montreal's South Shore, in Brossard. It wasn't exactly surprising news, except for the fact that the store had already been launched without her. "It's silly, but the fact that it was presented as a done deal really affected me. I felt like the family business was continuing to evolve without me," she admits. Soon after, in 2000, an assistant manager post opened up at that location. Oberson applied and was hired.
As the current manager of an Oberson store in Quartier Dix30, Oberson realizes with hindsight that the time she spent working at Oberson outlets was an advantage, since the experience helped her cope with a business only slightly less structured than an SME.
"As opposed to big companies, where there is a department for everything, you get involved with every aspect of an SME. You can't hope to become an expert in everything, but it's useful to have some skills in certain areas."
Passing the torch
In the summer of 2016, Oberson started buying her father's shares of the business. She was not alone in the process, which began informally six years prior: Maurice Oberson's right-hand man, Daniel L'Écuyer, who was also the manager of the Laval outlet, also bought shares. By the end of the buyout period, foreseen to last two years, Alexandra Oberson owned 51% of the shares and L'Écuyer 49%. "Daniel has been there throughout all of Oberson's history," states Alexandra Oberson, who has collaborated with L'Écuyer for the past 16 years.
See also : Meubles Arboit-Poitras: A father-and-daughter Quebec business
Without L'Écuyer's involvement, Oberson would never have taken on such a high-risk project. "It was too big of a deal. That's why my dad created this strategy—to take some of the weight off my shoulders," she explains. It was also a way for Oberson Sr. to ensure the continuity of his business empire, which he built on his own from nothing. "In business, my father is pretty uncompromising. He has a lot of expectations, and even though he's about to retire, he still sets the bar really high," admits Alexandra Oberson.
Thankfully, maintaining good relationships is part of the Oberson family's DNA. Alexandra Oberson understood the importance of patience throughout the transfer process, which was "rooted in respect and humanity." "Fighting with my dad and depriving my three kids of their relationship with their grandfather would have made no sense. I needed to exercise a certain restraint, and so did he," she says.
An evolving universe
The arrival of new owners at Oberson coincided with new business strategies, such as significant investments in e-commerce, which represents around 15% of the company's revenues, as well as the opening of new locations in "high potential" areas.
"Some regions in Quebec are able to support 20,000-square-foot stores. The process of identifying, studying and developing the market should take about 18 to 24 months," Oberson explains. Western Canada, while an attractive market in terms of skiing, is not on their radar, for the time being.
That's a statement that goes against current wisdom in today's retail sector, which is undergoing profound changes. "I think retail is evolving, not going extinct," Oberson clarifies. "Specialized chains like ours have their place. People come to us to take advantage of our expertise and get some advice from people who are devoted to skiing and biking—to take advantage of the Oberson experience, in other words."
Oberson in Numbers
125: Number of employees during the high season
15,000: Square footage of the Oberson e-commerce warehouse
66%: Percentage of sales generated by skiing. Biking represents 33%.  
Want to learn more?
Visit Oberson's website