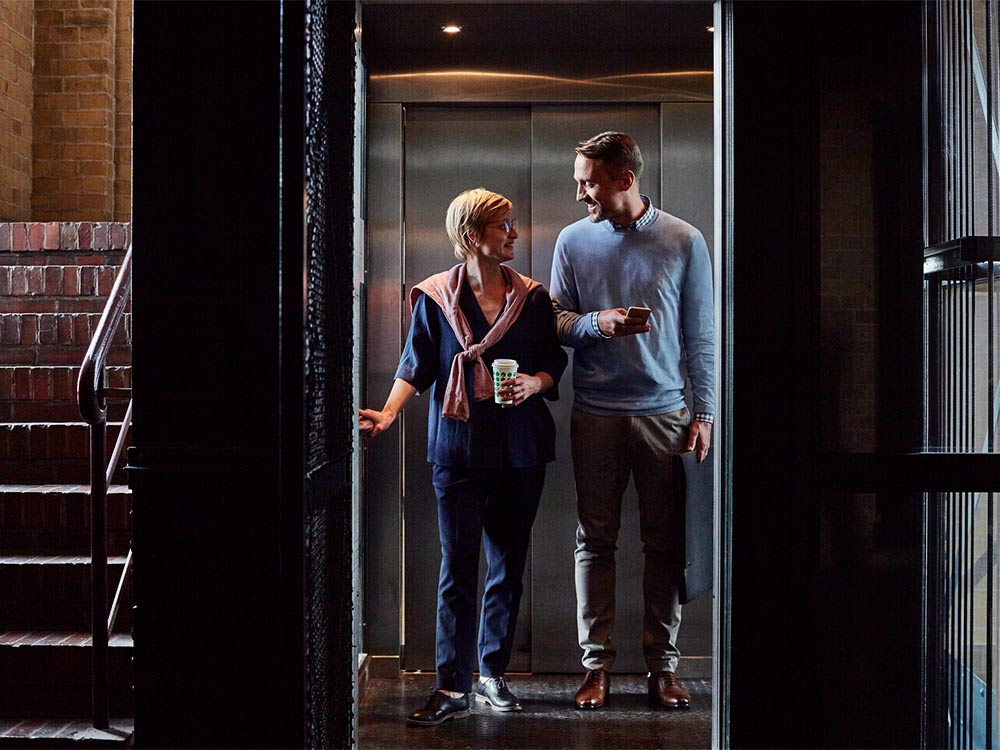 WELL certification: Improving wellness at work
Horizons
Friday, September 29, 2017
Launched only three years ago, WELL certification is increasingly attracting imitators worldwide and is starting to influence Quebec entrepreneurs as well. More than 350 buildings have received WELL certification, including five in Canada. The Humaniti development in Montreal, the first Quebec real estate development to apply for this LEED-like certification, should be completed in 2019.
While LEED certification is awarded to buildings that conform to high standards in terms of energy efficiency and construction materials, the WELL program focuses on the health and well-being of the occupants of these buildings, whether they live there or work there.
Over 100 criteria
To be certified as WELL, the building must conform to criteria regarding air quality (ventilation efficiency, reduction of volatile organic compounds or VOCs, monitoring of mould development, etc.), water and lighting. It must also promote a healthy diet for its occupants. "For example, it must post the nutritional value of products offered by vending machines, indicate the ingredients used in dishes sold in its cafeteria, limit the amount of processed food, eliminate trans fats and promote the consumption of fruits and vegetables," explains Réal Migneault, the Director of Sustainable Development at architectural firm Lemay, which created the Humaniti project and is arranging for its WELL certification.

A collection of buildings that includes a 39-storey tower, Humaniti offers residential space as well as 60,000 square feet for offices, a hotel and retail boutiques. Only the residential portion is applying for WELL certification, but this is intended as merely a first step. "After we made the announcement, several companies contacted us because they were also interested in WELL certification," Réal explains.
See also: B Corp Certification: Responsible entrepreneurship
Evaluating how comfortable offices are with regard to temperature, noise levels and ergonomic considerations is also part of the criteria. A WELL-certified building must also promote good physical and psychological health. "We want to encourage people to be more physically active by installing staircases that people will want to climb, instead of the kind of stairs you find in fire escapes," adds Réal. "As part of its criteria for evaluating whether the building benefits the mental health of residents, WELL evaluates how life-friendly the space is, which could include its suitability for indoor plants, for example."
 
Valid for three years
The certification process is not based solely on documentation provided by the building itself, but requires independent testing to measure air and water quality and acoustic properties, as well as an on-site visit by an auditor.

"The ideal situation is to have a company construct its own building and occupy it while respecting the WELL criteria," Réal explains. "However, a developer could simply have the building certified in and of itself, with the tenant business securing its own certification for its own space."

As opposed to LEED certification, which is granted once and lasts a lifetime, WELL certification is awarded for a limited time. "Tests need to be redone every three years to ensure performance levels are maintained," emphasizes Réal.
 
Advantages for business
While adopting the WELL standard may have costs for employers, it also offers benefits. "When you're planning to construct a building that will be WELL certified, you need to have human resource representatives at the table, which is not usually the case. This means the needs of users will be better taken into consideration," Réal explains. "A healthy workforce that is feeling well is more productive and less affected by absenteeism." Offering a WELL-certified environment will also help attract, engage and retain employees.

Last July, office furniture designer Teknion received Silver-level WELL certification for its showroom in Toronto, which employs around 30 people. By making the necessary changes in order to receive the certification, the company increased employee satisfaction by 65%. "Employees are more invested in their work and more excited about coming to work in the morning," states Tracy Backus, Director of Sustainable Programs at Teknion. "They work more cohesively as a team." One of Teknion's clients liked the space so much he asked for it to be made available for hosting his teams' strategic workshops.

Establishing a rewards program that encourages workers to be more physically active, which is part of the WELL standard, leads to greater participation in Friday morning fitness classes, followed by some collective smoothie preparation. "We don't see people chained to their desks anymore," Tracy notes. "They move around more, take real breaks for lunch instead of eating in front of their computers, and they eat healthier."

More than mere cosmetic measures, WELL standards promote real change.