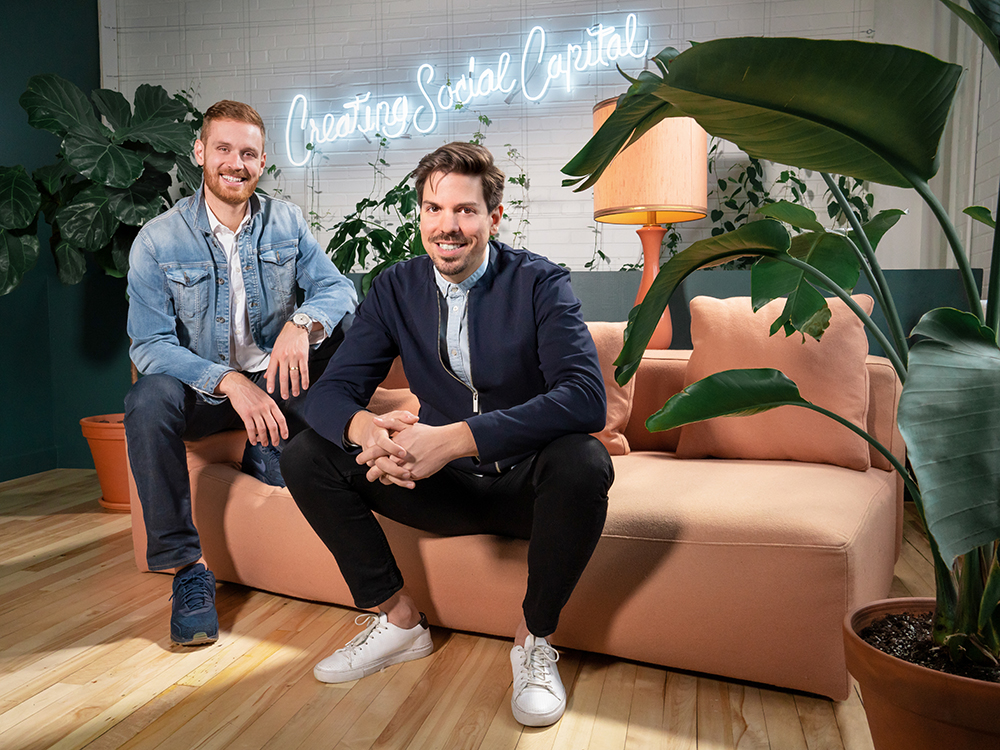 Republik: Taking responsibility
Jean-Philippe Shoiry and Vincent Fortin's Story
When they took over ad agency Republik in 2014, Jean-Philippe Shoiry and Vincent Fortin aimed to refashion the company in their own image. That original idea continued to develop and led to their announcement in 2018 that they would be working exclusively on socially responsible projects by 2021. Here's a look at an usual career path in the advertising industry.
For some time, Jean-Philippe Shoiry and Vincent Fortin, whose backgrounds are in business law and finance, had wanted to work together to successfully build a business they could both feel personally involved in. In 2012, Vincent Fortin was working for an agency that shared offices with Republik and learned that its head, Robert Beaudoin, wanted to sell the company. Shoiry and Fortin quickly became interested in the industry, which in their words is "accessible to anyone that's interested," and began the process of taking over the company. "Since we were new to the industry, taking over an existing company made sense," explains Shoiry. "We had our own business ideas, but it was a good idea to start out with something existing and take advantage of the company's reputation and its president." The gradual takeover plan, spread out over two years, enabled them to learn more about the business before Beaudoin would officially pass on the torch when he retired, which happened in 2014. "This transition period was very instructive, and we were able to establish an identity for ourselves through our contact with clients and mandates," continues Shoiry.
B Corp, a first step towards greater responsibility
Right away, the new leadership team wanted to reposition the company for better performance in financial, social and environmental terms. "Actually, before we even knew what we were aiming for as a company, we wanted to anchor ourselves in socially and environmentally responsible values as a business," explains Fortin. "No matter what we were going to do with the business, we wanted to get it certified by B Corp." Their interest in obtaining this certification came out of Shoiry's master's in taxation thesis, for which he studied models of sustainable development (often referred to as "triple bottom line") in charitable organizations and where he first learned about B Corp. Developed by the American NPO B Lab, the certification (which now offers a Canadian version) attests to the efforts of non-profits in the areas of social and environmental responsibility (in terms of its management, governance, supply chain, etc.).
"B Corp certification is really useful, because it's something that is attainable and that will determine what processes need to be put in place. It therefore concretely encourages a shift towards improving the impact of companies. If you wanted to oversee that process as an entrepreneur, it would be very complicated in terms of resources."
Jean-Philippe Shoiry
 
So in 2015, they successfully underwent the B Corp certification process and became the first Quebec agency to include that weapon in their arsenal. Once armed with the certificate and the desire to establish good governance procedures, the leaders put in place a range of practices, such as investing a certain  number of billable hours in supporting charitable social initiatives and setting up waste reduction processes.
Impact and growth
Following the establishment of a management system that takes social and environmental effects into account, Shoiry and Fortin wanted to take the idea even further. "Everything we put in place concerned our operations, whether it involved our experience at the office or what employees were allowed to do," states Fortin. "But we wanted to then put that at the heart of all of our activities, meaning into our service offering."
Which is how Republik's decision to work solely with social enterprises operating in the impact economy by 2021 came about.
In more specific terms, new clients of the agency need to undergo an impact audit to create a profile of the company. An evaluation methodology for socially responsible projects was created in collaboration with B Lab Canada. Client companies will also be invited to participate in a workshop with Credo, an organization specializing in accelerating socially responsible companies, in order to support further thinking on the issue.
See also: How Credo supports entrepreneurs
Republik's current clients have all been informed of their plan, and it was well received. For company leaders, the approach will enable them to both respond to a real business need, that of communicating a meaningful message, and responding to employees' desire to work on an inspiring mission. "Taking a responsible attitude is a growth tool for many companies, because it's a competitive advantage," stresses Shoiry. "But above all it's our sector's future, in our opinion, because companies that are aware of the need to convey a message need to understand how to communicate it in order to have an impact. We can put these brands in touch with customers. And encourage consumers to use their purchasing power in the right way."
The company's creative process was also revised in order to produce more meaningful stories. The French slogan developed in 2016, which translates as "Real talk," speaks to the process of identifying areas of impact in order to unearth powerful stories.
"As a citizen, I can see that this is where the industry is headed," confirms Shoiry. "We need to find other ways of doing business, and anyone who takes part in this will be successful. This is a new market for attack, and it's interesting that you can make these coherent decisions that also bring growth opportunities. We now have a business model in which growth really means something, because we're taking part in a larger movement."
 
Republik in Numbers
25: Number of employees
2: Number of years the company leaders gave themselves to switch to working solely with social enterprises
 
WANT TO LEARN MORE?
Visit Republik's website
 
Pictured (from left to right): Jean-Philippe Shoiry and Vincent Fortin