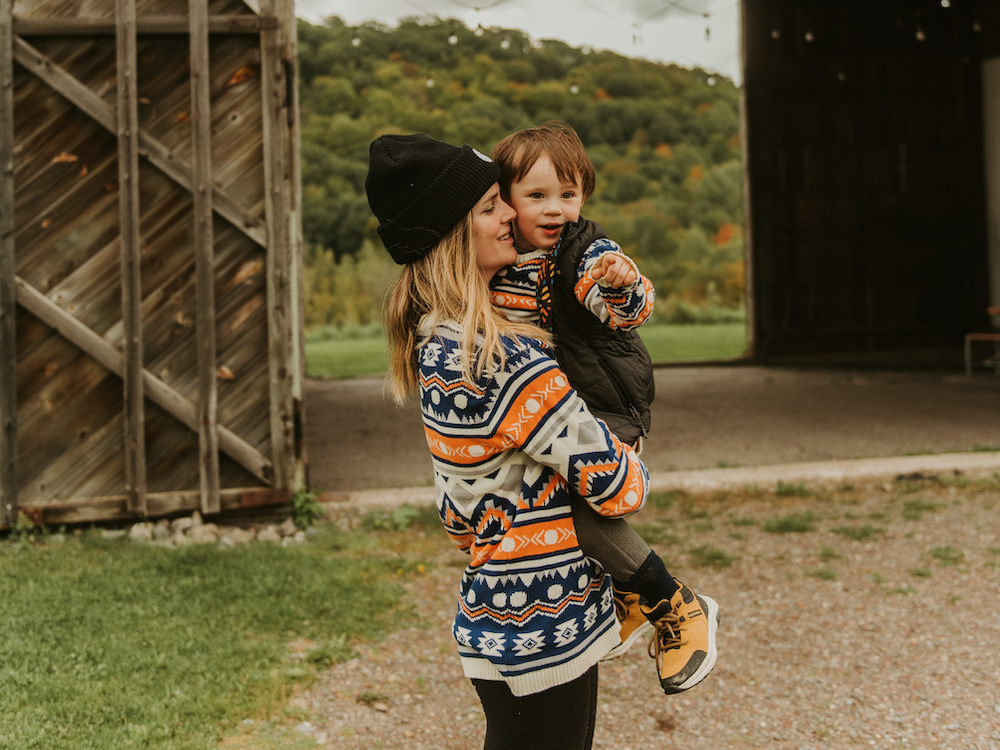 Petit Montagnard: Reaching New Business Heights
Eve Lussier-Roy's Story
Tuesday, November 29, 2022
Eve Lussier-Roy, founder of Petit Montagnard, has always been a great fan of the outdoors. Her love of the wild didn't fade when she had children. On the contrary, it pushed her to take the matter in her own hands and create what she needed: outdoor clothing made for toddlers.
Eve completed her studies in human resources at the University of Sherbrooke, but was never compelled by the traditional 9 to 5, Monday to Friday. What drove her was having her own project. Maybe it has to do with having entrepreneurial parents as role models growing up. Having six siblings, she learned to make her own way. Her large family also taught her problem-solving skills, which helped her when she started her own business.
"What excites me about start-ups is bringing to life a project that was in my head and that I had put on paper."
THE BIRTH OF PETIT MONTAGNARD
Climbing, skiing, hiking, running, camping: these are only a few examples of activities Eve enjoys. She mentioned to us that she often goes on adventures, accompanied by her children, her little mountaineers. They are the genesis of her business project. When her first child was still young, Eve simply couldn't find suitable clothing for their outings together.
The businesswoman can't help but laugh, thinking back on those two days of inconclusive shopping, after which she decided to buy a sewing machine. She had no sewing experience, but vaguely remembered her mother showing her the ropes. A week later, she launched her first fleece.
"I was the right person to know what was missing in the market, because I've been on outdoor adventures my whole life."
A COMPANY THAT GROWS AS FAST AS CHILDREN
When Eve started her business, she wore many different hats. "I would cut the fabric at home and then take it to the seamstress. Back home, I would sew buttons and prepare the package for delivery," she explains. One thing led to another and the business grew. After three months, nine seamstresses joined the team, patterns were produced and patterns were incorporated into the garments through collaboration with different designers. Eve was finally creating clothing for both girls and boys, products that would last over time and follow the rapid growth of children.
In the future, she wants to open her first boutique, located in Magog. This will allow direct contact with her customers, something Eve greatly appreciates and needs. The goal is for Petit Montagnard to become "the place where families equip themselves from head to toe." She wants her company to be a reference in the field of outdoor adventures. The entrepreneur doesn't stop there. She would like to have at least four more points of sale. She wants to set up in places near the mountains, in well-known tourist spots. She dreams, among other things, of western Canada and the breathtaking landscapes of the United States.
A MEETING PLACE FOR KINDRED SPIRITS
With the resounding success of her business, Eve has a head full of projects. In the first year of Petit Montagnard, she launched introductory hiking events. She wanted to encourage her clientele to explore nature. The entrepreneur wants to set up something similar in the coming months to encourage people to be active. "There are a lot of parents who, when they have children, find themselves a little out of touch with the outdoors," says Eve. That's why she feels it's necessary to share the knowledge she has accumulated over the years. She wants to create a community that, together, makes the outdoors more accessible to families.
Eve summed it up: she wants Petit Montagnard "to touch everything, to be everywhere." But for that to happen, a solid structure must be put in place. With her team, she is working to find reliable people who love her company as much as she does. Surround yourself with trustworthy people, that's the best advice she can give to people who want to start a business.
THE COMPANY IN NUMBERS
2 employees
$1,500,000 in sales in 2021
50+ products available
LEARN MORE
Visit Petit Montagnard's website to learn more about its outdoor clothing and accessories.