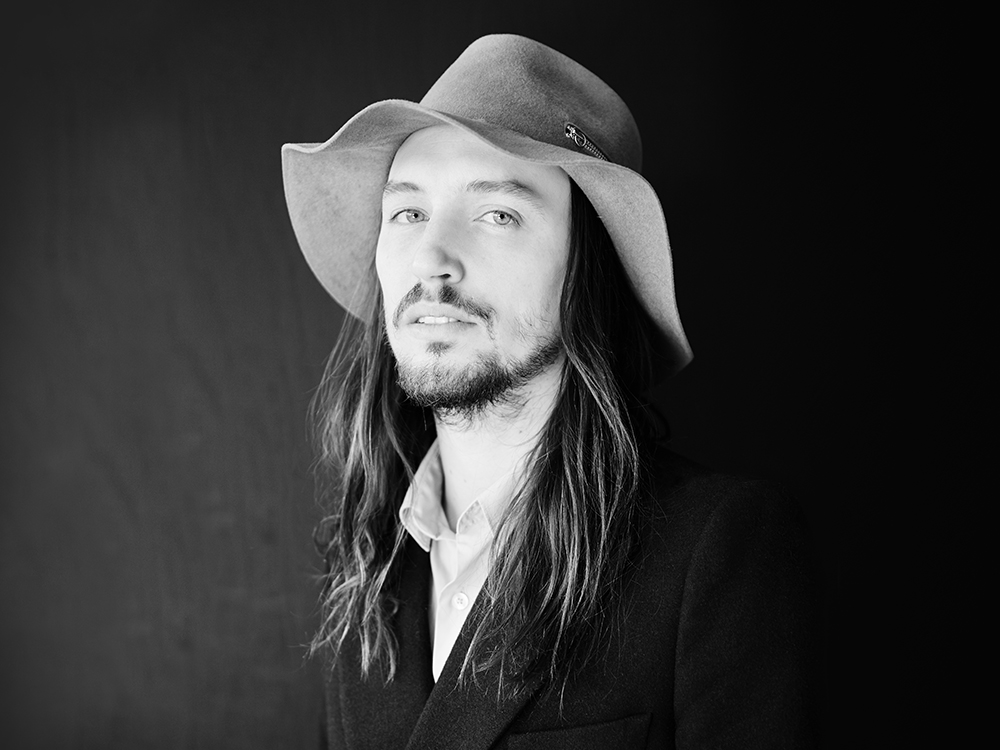 The Modern Hatter
Isaac Larose's Story
A style and travel enthusiast, Isaac Larose has enjoyed success in one of the world's fashion capitals: Paris. After creating Larose Paris a millinery label in 2012 with his partner Marc Beaugé, today this Quebec native hats heads around the world.
A native of Quebec City, Isaac went to Paris on a university exchange program. After his first week there, he was awarded the opportunity to style a shoot for the magazine Les Inrockuptibles. His atypical elegance and people skills are what led him to meet Marc Beaugé, who would later become his business partner in Paris.
Succeeding overseas with the right partner
Larose Paris emerged from a meeting between friends. The enthusiastic hatter is all too happy to share the story: "One night, I was chatting with Marc about this and that. We then gave ourselves a challenge: we each had to list three ideas for companies we'd like to create. It turns out we both came up with the idea of creating a collection of caps that would be made in France using high-endmaterials and that could be worn with a suit." Those best intentions of Larose Paris would soon be seen on the heads of a crowd of followers.
" The goal was never to make money. We just wanted to create a quality product. "
Isaac Larose
After teaming up with a milliner and a supplier, Isaac Larose launched his first cap collection in 2012 and earned himself a name in the world of urban fashion.
He originally planned to sell his caps in four locations in Paris, however he soon achieved sales in 50 stores throughout 12 countries. "We were overwhelmed by our initial success. We knew nothing about customs tariffs, distribution or logistics. We had to learn quick, while staying cool."
In 2014, Larose Paris signed an agreement with a manufacturer in the south of France that works with big names like Hermès and Comme des Garçons. The Quebec entrepreneur and his associate control the communications, design, sales and brand development while their manufacturing partner takes care of the financing, delivery and billing.
Collaborations in Quebec
On top of developing their business in Europe and Asia, Isaac Larose maintains ties with Quebec stores as well. Larose Paris presented their first event in Canada their 2015 Spring-Summer collection, at Montreal boutique Michel Brisson.
In November 2015, the Quebec hatter decided to launch a limited edition collection with Frank & Oak for Spring-Summer 2015, Larose Paris x Frank & Oak. For Ethan Song, co-founder of Frank & Oak, the collaboration with Isaac was a way of showing support for the designer's work. "We have great admiration for the work with Larose Paris," explains Ethan, "and his desire to promote the craft and expertise of hat-making."
Standing out to succeed
Despite all of their success, Larose Paris is not looking to sell large volumes. "We are very selective when it comes to our distributors," states the entrepreneur. "We don't want to invade the market – we prefer more organic growth. We'll remain a well-kept secret, looking for quality in our shapes and our materials, rather than looking for quick financial growth."
To his fellow young Quebecers keen on going into business, Isaac Larose recommends standing out. "You have to ask yourself how your product or service is innovative," he explains. "You need to be creative and think of something that isn't already available on the market."
Larose Paris in Numbers
12 :

Number of countries in which the brand is distributed

50 :

Number of current sales locations

400 000 :

Larose Paris's sales in Canadian dollars for 2015
Want to learn more?
Visit the Larose Paris website