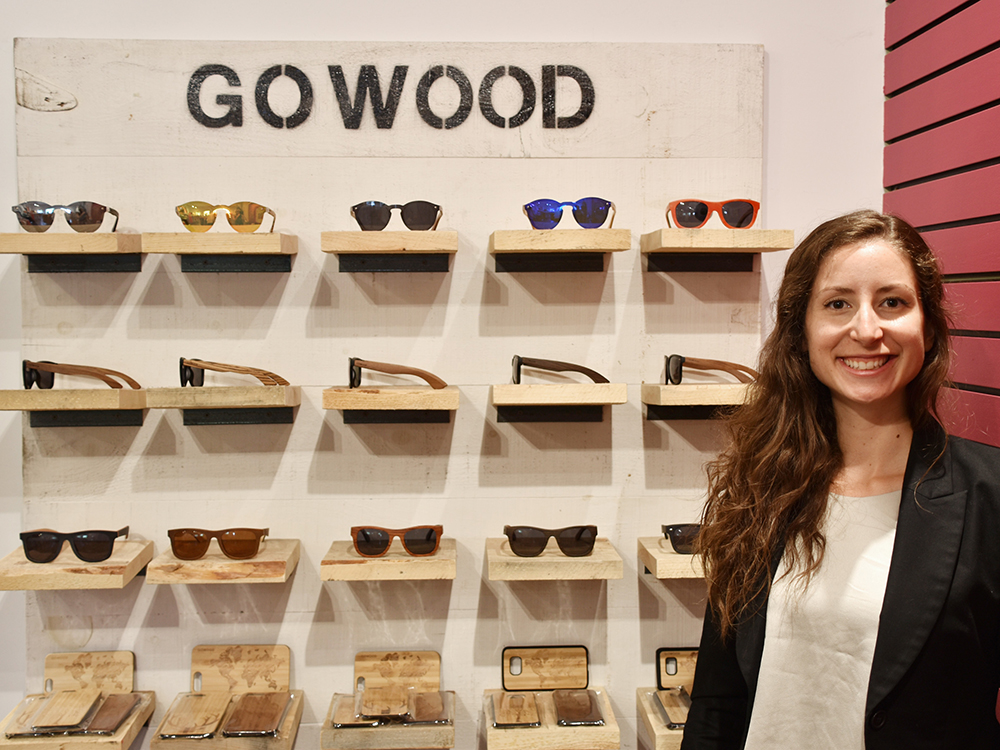 Go Wood: Knock on wood
Tania Brassard's Story
Friday, September 28, 2018
Go Wood was started by Tania Brassard and her husband, Ralph DeRuiter. Brassard specializes in the retail industry and fashion, and DeRuiter has experience in computing and e-marketing. Since both are enthusiastic about the promise of the web, they combined forces in 2014 to create Go Wood, a company that offers sunglasses and other products made of wood and that takes advantage of all e-commerce has to offer entrepreneurs.
A great opportunity
During a trip to Europe, the pair fell in love with various styles of wooden eyewear. Upon returning to Canada, they tried to find the same types of products in this country but turned up very few satisfactory equivalents. So DeRuiter studied the market and observed that on this side of the Atlantic, this product type was only available in the U.S. DeRuiter and Brassard had found their opportunity: By creating a company based in Canada, they knew that Google's algorithm would provide them with a desirable ranking in its search engine. The couple then spent quite a long time thinking about starting a business. DeRuiter already had experience leading a company that created websites, and Brassard also understood what was involved in starting a business since she came from a family of entrepreneurs. "We adore everything related to the web," emphasizes Brassard, "so it was natural for us to start an online business."
The two co-founders began their adventure while keeping their respective jobs so that they could maintain a source of revenue. Then they gradually started limiting the hours they devoted to those jobs in order to focus on Go Wood until they were ready to jump into the business full-time. The company's launch was entirely financed by the couple's savings, and they reinvested all their profits into growing the business and exploring new markets. In order to build on the existing strengths of its co-founders and offer a product at a reasonable price, Go Wood handles quality control, customer service, development and marketing while delegating production to various international manufacturers. However, each pair of sunglasses is checked by hand in Canada before being sent to its destination.
Diversification
From the beginning of their adventure, the couple knew they didn't want to limit themselves to selling sunglasses. Go Wood now offers cellphone covers and recently even started offering cutting boards. "This larger product offering allows us to make sales throughout the year instead of having our revenue concentrated during the summer season," explains DeRuiter. For similar reasons, Go Wood would like to break into the Australian market, where the summer lasts throughout the year. In the medium term, the company will continue to enlarge its product offering in order to provide products in all price ranges that fulfill the wide variety of needs of wood aficionados.
This diversification will also allow Go Wood to stand out from its competitors, who may not have existed five years ago, but have grown in numbers since then. This increased competition doesn't overly worry Go Wood's co-founders, who consider their product to be more interesting in terms of quality. "Given that we've been in the market for several years, people know us," explains Brassard. 
"And we're still happy with and proud of the product we offer. It's often the small details that make a product durable and fun to wear. We've put years into refining our product. We understand now what the right curve is for the arms, what screw should be used, etc."
Tania Brassard
A small business thinking big
Go Wood makes 90 percent of its sales online. The company's products are also offered at various points of sale across the country and at certain optometrists. But the exponential growth experienced by the business has been due to its listing on Amazon (in the Marketplace), which allows third parties to sell Go Wood products on the platform and return a certain percentage of each sale to the company. In fact, Go Wood products have been offered on the Canadian, American, British, French,  Italian, Spanish and German versions of the platform since 2016. It is through this intermediary that Go Wood earns the majority of its revenue. "This systems takes a portion of our sales, it's true, but it also opens the door to 300 million users," says Brassard. The platform is also practical for a small business like Go Wood, since the Amazon market system includes the warehousing and shipping of the goods sold.
Entrepreneurial passion
On their own since starting their business, Brassard and DeRuiter love their life as entrepreneurs. Each does a bit of everything, from shipping to development to accounting. "When you start small," says DeRuiter, "you have to do everything yourself. In my ideal world, I would spend my entire day on online marketing to make the business grow. I would put all my energy into development. But there are too many things that need to get done." But all their work has paid off. Brassard mentions in particular that she's passionate about working for herself and seeing the company make progress. "It's super motivating to see the results of the work you put in. And I find that motivates me to get up in the morning, because I'm happy to be working on my own project." DeRuiter, for his part, particularly appreciates the freedom in being able to do what he wants, when he wants and how he wants. "Being an entrepreneur is about doing what you believe to be the best thing for your business. That's the best motivation there is." And the partners haven't even mentioned yet how happy they are when they see someone proudly wearing their beautiful wood-framed sunglasses…
Go Wood in Numbers
6:  Number of times their revenue has multiplied in the past year
7: Number of countries in which Go Wood products are available
90%: Portion of online sales
WANT TO LEARN MORE?
Visit Go Wood's website