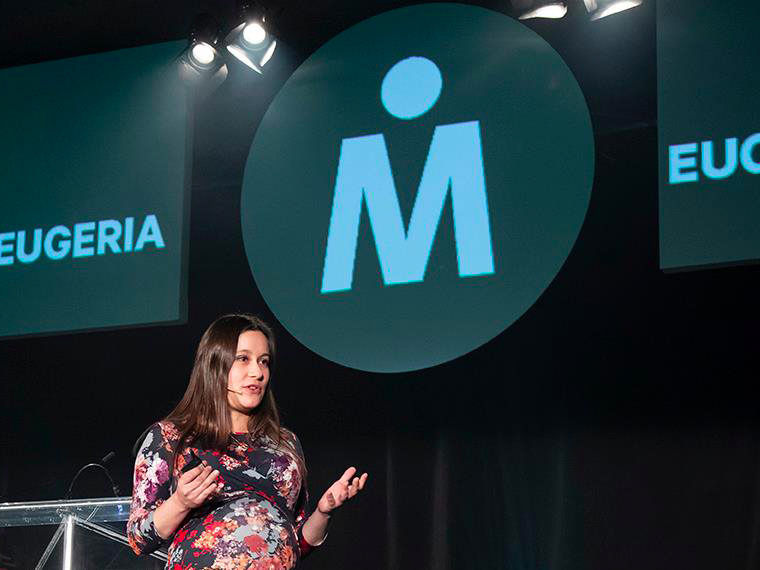 Eugeria: Winning at aging
Valérie Larochelle's Story
Friday, November 30, 2018
In Valérie Larochelle's view, it's time for the world of entrepreneurship to turn its attention to the circumstances of the elderly and their loved ones. Her company, Eugeria, is successfully contributing to creating positive change in the lives of people with diminished autonomy thanks to an individualized approach to aging.
In the spring of 2017, Valérie Larochelle, Quoc Dinh Nguyen and Roslane Aouameur met for coffee and to find an entrepreneurial project that would enable them to join forces. Larochelle had just returned to Montreal and was self-employed as a consultant after living abroad for several years. Nguyen is one of the few doctors in Quebec who specializes in geriatric medicine and at the time had just finished his master's in public health at Harvard. Roslane was travelling between Toronto and New York, working as an investment banker in the finance industry. She was also living far away from her parents, who were beginning to show the first signs of aging. While discussing the challenges of helping aging people who were losing their autonomy and in need of making changes in order to remain in their homes for as long as possible, the three friends—who had known each other since Cegep—landed on their big idea. 
The web platform Eugeria was born out of an observation: The needs of the elderly were not being fulfilled by entrepreneurs and were underrepresented in the market, despite the fact that they make up a considerable percentage of the population—a percentage that will only grow due to the aging demographics of not just the Quebec population, but that of most other industrialized nations. "Our goal in creating Eugeria was to provide older people and their loved ones with the tools they need to prevent and compensate for a loss of autonomy while offering easy access to specialized products and services," explains Larochelle.
Eugeria's solution is available through three components. First, a questionnaire created by health experts enables an evaluation of the needs of older people and their caretakers. Informational articles are also regularly published on the site in order to help readers better understand the underlying issues related to aging—for example, the difference between Alzheimer's and dementia. Finally, a smart directory offers a range of products and services that are carefully selected by the Eugeria team. The goal is to cover four fundamental aspects of aging from the point of view of the elderly: mobility, memory loss, daily life and support from loved ones. Eugeria's approach is first and foremost based on the individual, even though the creators of the platform take into account the fact that aging is a societal issue.
Complementary skills for a holistic company vision
Before starting her business with Nguyen and Aouameur, Larochelle already had a solid educational background and experience in business management. After studying human resources at Concordia's John Molson School of Business and earning a bachelor's in business, she initially landed a job at a large company that allowed her to travel all over the world, from China to the U.S. to Australia, where she was recruited by a big mining company and became head of its production facility in Queensland. She stayed there for two years. "It was then that I got the entrepreneurship bug. I had a lot of ideas, but it wasn't until I came back to Canada to work for myself that I started thinking about them more seriously," she explains.
Larochelle, Nguyen and Aouameur had all the skills they needed to bring their idea to fruition, from medical knowledge to operational, financial and strategic skills. From the beginning, it was clear that the company needed a holistic approach that would take into account the views of all those involved in caring for people who had lost their autonomy, from caretakers to GPs, occupational therapists and social workers. But above all they needed to completely understand older people's needs, which were numerous. "Contrary to other companies that were starting up and using tools like the Lean method in order to effect continual improvements, we couldn't risk using the trial-and-error method," says Larochelle. "If someone is experiencing several different problems—a loss of mobility and nutritional problems, for example—they have to be addressed at the same time. It's an additional challenge, but knowing how to address it is really Eugeria's strength." 
Betting on innovation to rethink aging
There were many challenges for the young company, but Larochelle remained confident. Eugeria's approach was to solidify its offering of products and services in the Montreal region before exporting its model to other cities, while still keeping in mind the particularities of each new location.  
The three co-founders had no lack of ambition. For Larochelle, the project is about betting on innovation to transform our relationship with aging. "We believe that together we can rethink aging. The science is evolving quickly, we can see that there have been significant improvements in lifespans. But given this context, we need to ask ourselves, How can we age well? There's no perfect solution, but Eugeria offers a human approach that enables the elderly to age with the most dignity possible. And I think that's a subject that's really worth racking your brain over."   
 
Eugeria in Numbers:
3: Number of full-time employees, plus three additional part-time employees
60: Number of partners linked with Eugeria
11,000: Number of sessions logged since the platform's beta phase launched in August of 2018, according to Google Analytics
Want to learn more?
Visit Eugeria's website