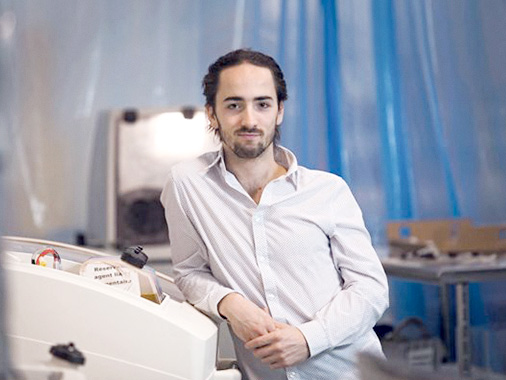 Devoray: Reinventing food in 3D
Samuel Côté's Story
Thursday, November 28, 2019
Passionate about both entrepreneurship and technology, Samuel Côté first hopped onto the business train at a very young age. His current project, Devoray, enables him to stretch the limits of what's possible in the food sector and innovate using 3D printing.
Samuel Côté launched his first business when he was only 16. Equipped with Google's search engine to help him figure out the technical details, the entrepreneur offered services in pool maintenance. In CEGEP, he was busy creating websites for various clients, then he started a company that repaired cellphones. A geek by nature, Côté has always been interested in the potential of technology, which is what led him to study engineering physics technology. "Actually, since I first started, I've never stopped. I love what I do so much I don't even feel like I'm working."
Partnerships for better development
In 2013, Côté launched Troadey, a company based in Quebec City offering industrial 3D printing services for a long list of materials, from ceramics to metals including titanium and steel. The expertise he earned at Troadey led him to form a partnership with Nutriart, a major agri-food processor in the region (which notably owns the Laura Secord chain), and by the end of 2015 he had launched Devoray, a company that could 3D print food. By joining forces with this new stakeholder, Côté was able to develop his offering by making use of Nutriart's infrastructure, including its laboratories, ingredients, workshop and logistics experience. The company's early years were invested in approaching potential customers in order to see what generated the most interest and in refining their technology. The company has been actively selling its products since the start of 2019.
This partnership between an established player and Côté's high-tech expertise enables Devoray to offer its customers very quick response times and a lot of flexibility in terms of execution. In real terms, what Devoray creates is a panoply of high-performance (and patent-pending) machines that enable foods to be printed in solid three-dimensional forms for the industrial food sector. Its most well-known application is the creation of preformed cocktail "bombs" made out of naturally flavoured powder, which can be produced by the thousands within an hour. "In fact," explains Côté, "the big innovation is the 3D food printing process itself, which creates new, economically viable products."
Building an appetite for novelty
While Devoray is first and foremost a technology-based solutions company rather than a food business, the groundbreaking nature of the services it offers has pushed Côté to widening his service offering. While at the beginning the idea was to approach large companies to sell them Devoray's 3D printing services, the thought being that such companies would have many resources in terms of marketing and design, the reality ended up being quite different. "We create these machines and run them for customers, but often we also have to create the product, its design and the recipe, as well as the packaging. The product we offer is actually so new that we need to provide some guidance to clients, who love the idea but don't necessary know what to do with it." 
The technology developed by Côté has enchanted a number of firms. All he had to do was understand how to materialize this interest in the form of a viable product. Once again, Nutriart's support was crucial to ensuring consistency in terms of supplies, recipes and ingredients.
Growing up beside giants
The wider public first heard about Devoray when the company unveiled a series of ready-to-mix cocktails developed in conjunction with the SAQ, a first for the liquor board. These very popular products gave Devoray high visibility, but the company more often works behind the scenes for its clients, which is the usual way business is done in the industrial sector.
The company thus develops products for several dozen Canadian, American and European brands. A cocktail product was developed with Bacardi specially for Halloween and pre-formed matcha teas were launched by David's Tea in the winter of 2019. The company also develops many products for four- and five-star hotels, whether it's products for room mini-bars, VIP gifts or conference swag. All printed using the hotel's branding, of course. 
Making its mark
In coming years, Devoray plans to continue to develop markets, particularly in Canada and the U.S. For Devoray, California represents a good growth opportunity since the state is known for leading trends in food and is a fan of the kind of technology Devoray offers.
The growth strategy of the company, which only has 10 employees, is to target new markets with high potential and then go out and approach their biggest players directly.
"We always say that we don't want to have the most clients possible, we want to have the best clients possible. We want good partners in order to launch new innovations."
Samuel Côté
New product niches developed by players that are specialists in their domains will therefore be targeted as avenues for development. From cocktails to sports nutrition to relaxation products, Devoray plans on creating new partnerships with established players to display its full range of possibilities to consumers.
 
Devoray in Numbers
2: Number of shareholders
10: Number of employees at Devoray
75 (approximately): Number of products developed by Devoray so far
 
WANT TO LEARN MORE?
Visit Devoray's website