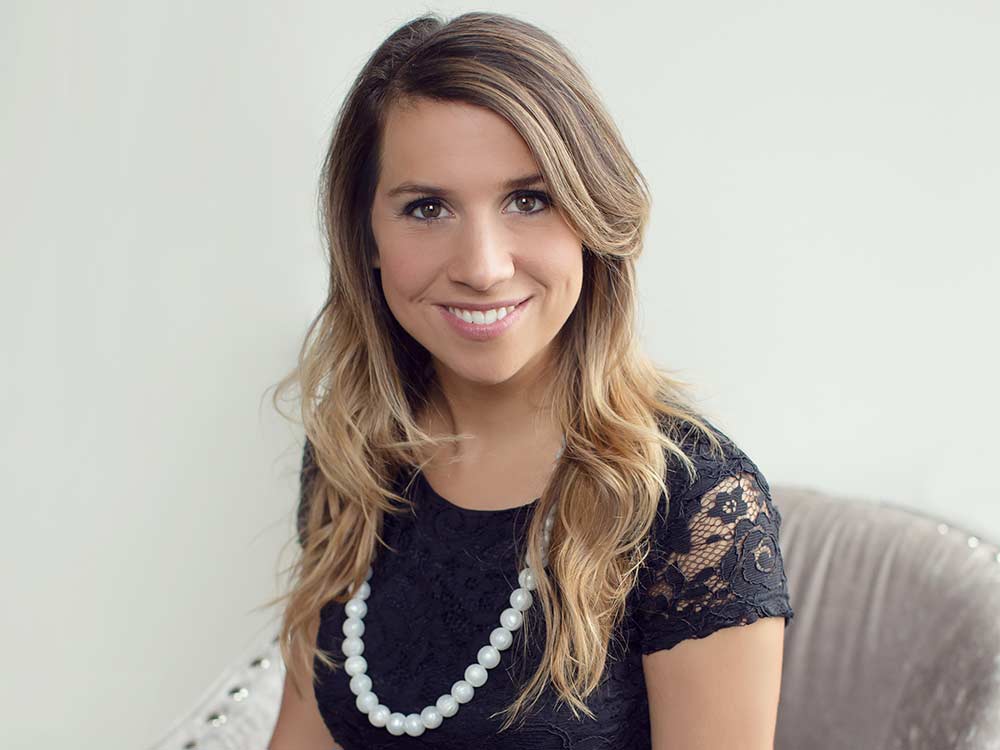 Bulle: When Mom turns entrepreneur
Valérie Doran-Plante's Story
The entrepreneur behind Bulle, Valérie Doran-Plante, has been working since she was a kid. As a pre-schooler she created her first pieces of jewellery, and she hadn't even turned 10 yet when she started selling them at a flea market.
"I have never stopping making jewellery. I even made my own pieces for my wedding!" admits Valérie Doran-Plante. But when she became a mother, she couldn't help but notice that jewellery and babies do not pair well. "My kids would break them by pulling on them. So I got the idea of using different materials that were more solid and secure. I started with wood and colourful fabric, but my little boy would constantly spit up on them... And it really didn't wash well!"
A swift ascent
While watching one of her children teething using a baby spoon, she got the idea of using food-grade silicone. "They really seemed to like the texture. Since it's safe and can be put in the dishwasher, I decided to have some beads made in order to create my first prototypes."
Following her childhood experience, she sold her first pieces in a flea market as a way of testing the waters and gauging the public's interest. Success was immediate and thus Bulle was born. Next she made a clip-on pacifier, which was also a big seller (and remains one of Bulle's most popular items). She began offering her products in specialized boutiques and almost immediately other stores started contacting her. The company's points of sale multiplied rapidly from then on.
After only a few months, Valérie had a profitable company on her hands. She quit her job as a counsellor in human resources to devote herself entirely to the business. At the same time, she decided to try her luck on the TV show Dans l'œil du dragon and came out of the experience with a partner, Danièle Henkel. Three years later, Danièle still has a stake in the company and continues to develop its strategic vision along with Valérie.
See also: Do you have to give everything up to start a business?
Mom and entrepreneur
The apple certainly doesn't fall far from the tree—as a mother of three (7, 4 and 14 months), Valérie's inspiration to head both a business and a family was her own mother. 
"I came from a family of four children. My parents were separated and we mainly stayed with our mom, who was also a businesswoman. She often had to work really hard and really late when I was young. But I never felt like I was deprived of her attention. When she was with us, she was fully there. That's what I try to do with my own kids," the entrepreneur explains. 
To maintain that delicate work-life balance, she relies a lot on her husband and has opted to work with an administrative team as well as a production management team. "When I started, I was in charge of everything: inventory, suppliers, the online store, orders, points of sale, deliveries, production, social media... ! It was exhausting and very stressful. But I have no regrets having done it, because it was necessary in order to turn my business into what it is today." 
"I now know that I work best when I have a great team."
– Valérie Doran-Plante 
Competition as motivation
As a supporter of the Fondation CHU Sainte-Justine, Leucan, Fondation maman Dion and the Centre de pédiatre sociale de Lévis, Valérie will soon expand her line to include sensorial objects created to promote concentration and diminish restlessness. 
Her teething pendants, zipper pulls (which attach to the top stops of coat zippers) and chewable pencil toppers have been quite successful amongst kids and teens with anxiety issues, attention deficit disorder or autism-spectrum disorders.
In fact, the popularity of Bulle products has led to foreign companies shameless copying and selling their own lower-quality versions online. "I have no issues with healthy competition," she explains, "but I have a bit of a problem when they outright copy my business model! But I've decided to take the high road, to work harder and trust in my creativity and the quality of my products. I aim to be like Coco Chanel, who said, 'Go ahead and take my ideas, I'll have others!'" And so she will soon be off to conquer the European market with new products we can't wait to discover. 
Bulle in Numbers
600: Number of points of sale, mostly in Quebec and Canada. "Soon we should be adding about 300 more!" exclaims the entrepreneur.
6: Number of employees at the head office
10: Number of jobs created in social enterprises in order to make and package Bulle products.
$50,000: The amount Danièle Henkel invested in Bulle
Want to learn more?
Visit Bulle's website